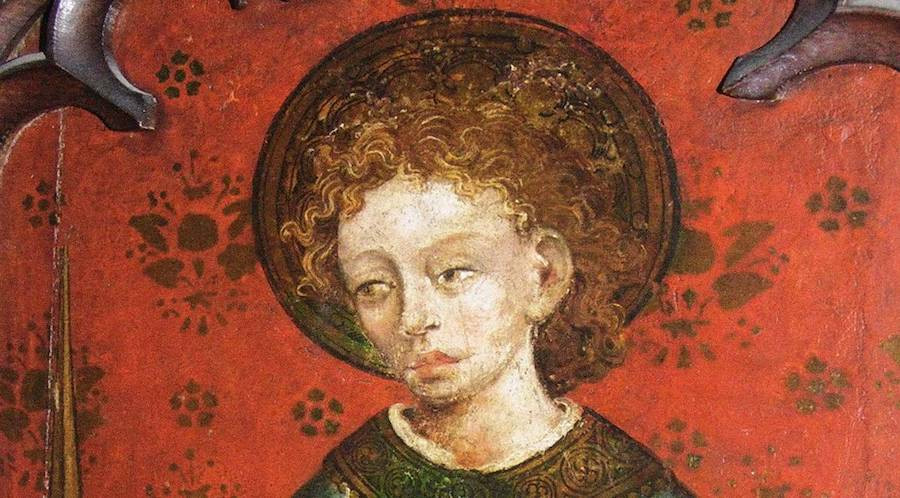 William of Norwich. (Anonymous). 15th Century panel in St Mary Magdalene Church, Norwich. Lurid and baseless claims of Jewish child sacrifice in the wake of William's disappearance were a flash point in establishing the antisemitic blood libel narrative in Medieval England.
---
Transphobic persecution is reaching a fever pitch on both sides of Atlantic. In the United States efforts to eradicate trans rights, and those of LGBT+ people more widely, are backed by fascist paramilitaries and exterminationist rhetoric by acolytes of the Trump Republican party.
Social media personalities sowing disinformation about trans healthcare providers "grooming" and "mutilating" children have directly incited lone wolf terrorism. Similarly in the immediate aftermath of the Ulvade school shooting, the alt-right fake news ecosystem framed a composite of trans women as the mass child killer.
In Britain, far-right conspiracy theorist mobs have imported US trends by storming drag queen story readings in a crusade against "paedophiles", cheered on by the gender critical-aligned national press. The leadership contest for a new Conservative prime minister seemed less interested in addressing the worst economic crisis since the Great Depression than in scapegoating a trans community facing surging levels of hate crime.
In the Swiss village of Basserdorf a sexually explicit effigy of a trans woman representing "diversity" was burned at the stake to mark an annual spring festival – a stark encapsulation of a modern-day witch hunt.
This transphobic paranoid style is bound by a distinctive common thread: its portrayal of trans people as an inherently deviant, predatory and deadly presence, and a menace to the safety and purity of the young.
It marks an escalation from a more academic transphobic conspiracism, pioneered by the gender critical movement, that speaks of a international "trans lobby" being bankrolled by Jewish billionaires to benefit Big Pharma or bioengineer civilisation towards dystopian transhumanism.
Although even before the far-right began focusing on a horror-themed transphobia, it was gender critical ideologues – with their talk of "child sacrifice" by a trans "blood cult" and equating trans inclusion to legalising sex crimes – whose rhetoric has echoed a much more vicious strand of antisemitism.
Their very public obsession with trans bodies, leading to "can a woman have a penis?" becoming a key political talking point, evokes the antisemitic fixation on the Jewish circumcised penis. The hypothetical question not concealing a desire to sexually intimidate and objectify its intended targets.
This nexus of sadistic fantasy and voyeurism, instilling into its moral panic a morbid curiosity for mass consumption, vividly mirrors the "sexualised horror" of a Nazi propaganda style termed pornographic antisemitism.
It featured prominently in the best-selling Nazi newspaper Der Stürmer, its "Jew Baiter Number One" publisher Julius Streicher being convicted at the Nuremberg trials for his integral role in the Holocaust.
In a prior iteration of modern doxxing and online stalking campaigns, Der Stürmer would acclimatise German society to pogroms by connecting individual Jews to an array of fabricated violent and sexual atrocities.
Many Nazis found Der Stürmer unsophisticated, but Adolf Hitler was an enthusiastic reader and credited Streicher as indispensable to normalising genocidal antisemitism.
A favourite topic for Der Stürmer was blood libel, the medieval Christian canard accusing Jews of the satanic sacrifice and vampiric cannibalism of children, with all unsolved murders being attributed to these macabre Jewish rituals.
Into these ancient foundations Streicher weaved Nazi white supremacist theory and imagined Jews as "race defilers" involved in the mass rape and sex trafficking of German women and girls.
Der Stürmer likewise cast "homosexual degeneracy" as a corrupting "Jewish" invention on par with Marxism and international capitalism, a description encompassing trans identities and medical research that was ruthlessly repressed in the early days of Nazi rule. (This demonstrates the ahistoricism of associating trans advocacy with antisemitism).
As this abject hate speech is weaponised against trans communities by the far-right, and their gender critical allies, the threats faced by trans and LGB communities have self-evidently worsened.
The consequence is a lethal blueprint for inciting hatred which is the spiritual successor to pornographic Nazi antisemitism - as we should identify it with confidence.
---
Tags: