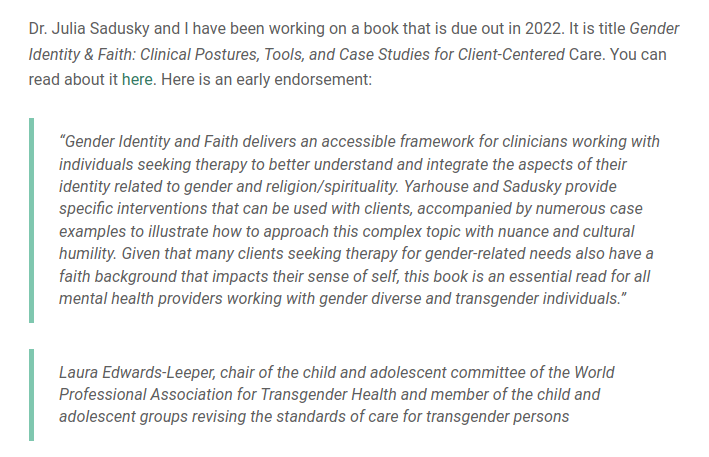 Screenshot of endorsement by Laura Edwards-Leeper on Mark Yarhouse's website.
In a move which will alarm many trans people, a senior figure at WPATH—the World Professional Association for Transgender Health—has given her enthusiastic endorsement to a book by Christian Conversion Therapy writer Mark Yarhouse. Laura Edwards-Leeper, the chair of the organisation's Child and Adolescent Committee, called the book '...an essential read for all mental health providers working with gender diverse and transgender individuals'.
WPATH is the oldest global professional organisation for transgender health, and has published and maintained the most widely accepted Standard of Care specification since its first edition in 1979. Although its approaches have faced consistent challenges by trans activists regarding the lack of trans autonomy in our own care, it is nevertheless the de facto industry authority on standards in transsexual healthcare globally, and an endorsement of this sort is cause for concern for transgender people.
Edwards-Leeper raised eyebrows last November when her piece in the Washington Post lauded so-called "Gender-exploratory" therapy- rather than the recommended Gender Affirmative Therapy - as a "key step" for trans people. Gender-exploratory therapy seeks to reduce gender dysphoria therapeutically, only offering medical transition as a last resort and often drastically lengthening the period of waiting before transition. By contrast, GAT - like the "gay affirmative therapy" model from which it takes its name - is designed in opposition to harmful and ineffective conversion therapies. As author and queer psychologist Meg-John Barker puts it:
Gender affirmative therapy (GAT)... is founded on the position that no gender identity, expression, or experience is any more valid, 'natural' or 'normal' than any other. In this way GAT sits in opposition to any form of conversion therapy which attempts to change a person's gender identity or suppress their experience or expression of their gender.
The report Ending Conversion Therapy: Supporting and Affirming LGBTQ Youth, was published in 2015 in connection with a symposium of experts from numerous respected psychology bodies and prepared by the Substance Abuse and Mental Health Services Administration in the USA, also gives short shrift to conversion therapy, calling it:
a practice that is not supported by credible evidence and has been disavowed by behavioural health experts and associations.
So with this in mind it is even more alarming that Edwards-Leeper has leant her endorsement to Christian conversion therapist Mark Yarhouse.
While Yarhouse was a member of the SAMHSA panel that produced the above report against conversion therapy, his position in the same period does not seem to accord with the panel. In his 2015 book Understanding Gender Dysphoria, published in the same year as he was involved in the panel against conversion therapy, Mark Yarhouse devotes a whole chapter to "Prevention and treatment of gender dysphoria", where he describes a "protocol" previously practiced at the Portman clinic in 1989, involving among other things "Fostering gender-typical habits and skills". Later in the chapter, his recommendation for Christian parents of children with gender dysphoria suggests in connection to one of his suggested "Frameworks" for understanding trans children:
[I]t may be important to at least consider managing a child's environment in a way that does not reinforce cross-gender behavior and identity...

...[R]edirecting a child's behaviors and ways of relating is a challenge for parents who may otherwise wish to affirm an integrity framework, as it can be experienced as going against what seems to come almost naturally to the child.
While he posits various frameworks as options, his 2015 book clearly legitimises the framework where parents of trans children try to deter their children from "cross-gender behaviour and identity". His 2020 book Emerging Gender Identities provides an update on his position following the criminalisation of conversion therapy in many states of the US, describing "Reinforcing Gender Identity That Corresponds to Birth Sex" as one of "the options available to families and some of the controversies surrounding them" before discussing the growing legal risks for these practices.
Yarhouse is a popular voice in sexuality conversion therapy circles and his work focuses on 'integrating personhood and religious values'. His 'Identity Synthesis' model preaches abstension from interaction with gay peers and culture, with the help of 'Homosexuals Anonymous'-style groups. Yarhouse has also warmly discussed the Christian ex-gay group Exodus International, which closed dramatically in 2013, apologising for the harm done to the gay community by its activism.
On her part, Edwards-Leeper has been increasingly cosy with anti-trans organisation Genspect, including recently publicly thanking Genspect advisor Lisa Selin Davis for seeing "the complexity in this issue" (in response to Selin Davis denouncing the GAT model as a form of child abuse).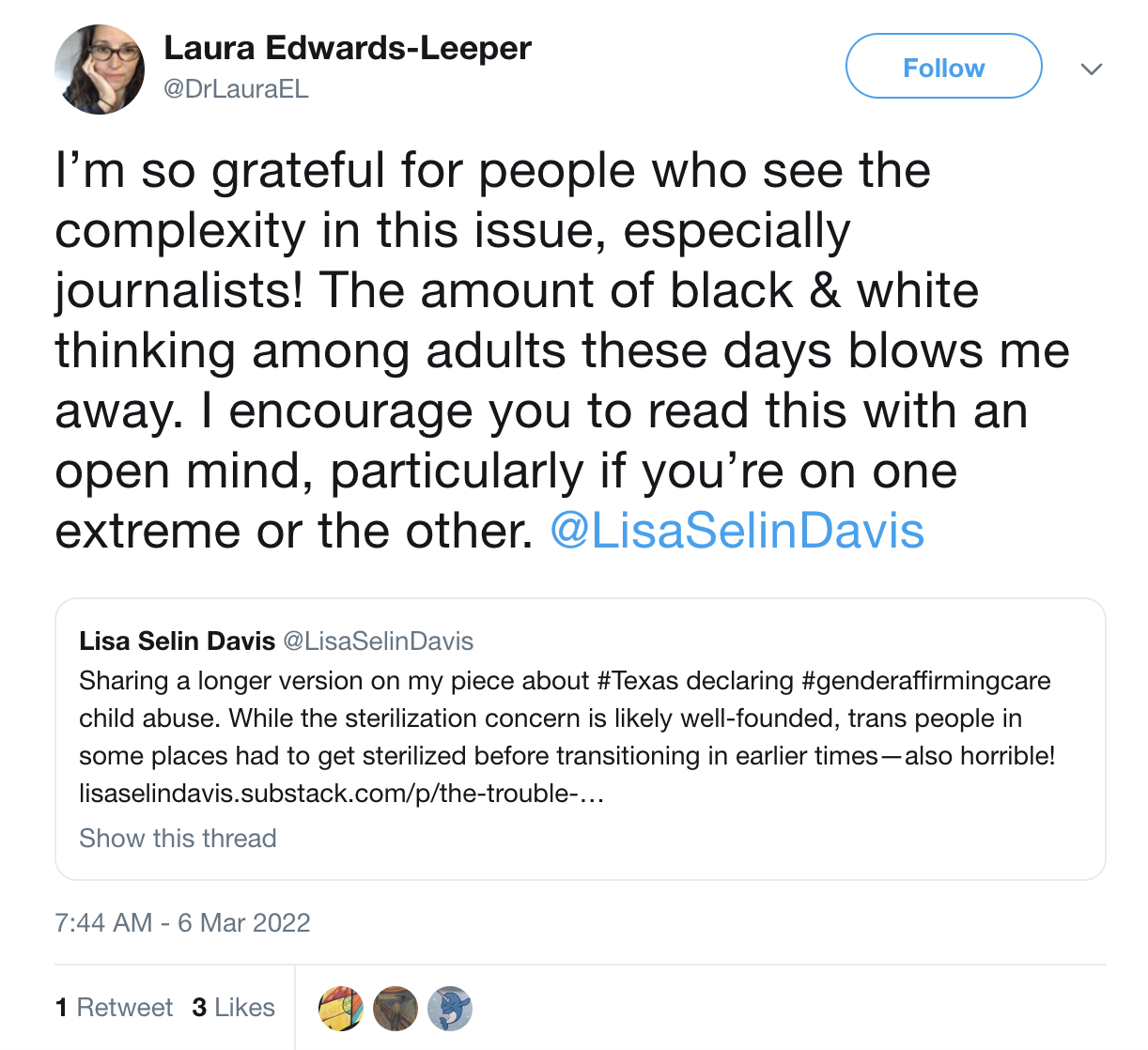 Trans Safety Network have previously criticised Genspect for their collaboration with the conversion therapy advocacy movement.
Edwards-Leeper has been asked for comment.