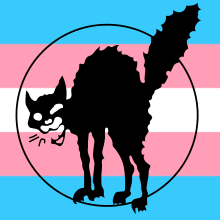 On Tuesday (9th of November 2021), Trans Safety Network urged trans people to share their stories of workplace discrimination under the hashtag #WorkingWhileTrans.
The hashtag was inspired by TSN researcher Meryl Links sharing her personal account of being harassed for being trans while working as a maths teacher at a UK school. Speaking about her experience, Links said "Within days of being in front of classes, I had students throwing things at me every time I crossed the car park and blocking the corridors to trap me...Students shouted slurs and threats from large crowds so I couldn't see who said it...The conditions at that school meant that by February 2020 I was in the middle of a mental health crisis. I took indefinite leave until just before the pandemic hit, whereupon I quit. I was so unwell, I spent 6 months seriously worried I'd never be fit to work again."
The hashtag rapidly took off, with trans people sharing posts about their stories of being harassed and discriminated against at work, discussing bullying from colleagues and management, violence from customers and being overlooked for jobs because they are trans, as well as some inspiring positive stories of inclusive workplaces and solidarity between trans and cis workers.
I was getting threats against my life and the polis just told me to resign since I obviously couldn't hack it

I get harassed/sent abuse on a daily basis just for being me

Got put on the front page of the papers with JKR for.... reasons?! #WorkingWhileTrans

Gregor/Fisher Murray (@grogipher)
I was sacked from my job 1 week after I notified my work I was due to go for gender affirming surgery and would need time off. I fought the dismissal but I was told by the union that I didn't have enough rights because it was a temp rolling contract #WorkingWhileTrans

— Samantha November 10, 2021 [private account]
If we're talking about #WorkingWhileTrans, my former company organised a meeting for all 150 women who worked in the building, without telling me or inviting me, to ask them all if I could use the women's changing rooms.

If one person had said no that would've been me banned. pic.twitter.com/5Q5e5bWN5l

— Toryn Caitriona Glavin (@torynglavin) November 10, 2021
Coming out as trans was the worst decision I could have made for my career as a globe-trotting TV news reporter/producer. I lost the best paid job of my life and still have a separate identity online because of it #WorkingWhileTrans

— YourQueerUncleFaizan (@Faizan_Imaan) November 9, 2021
Solidarity from the workers' movement
A number of trade union and workers' movement organisations, including London IWW, UATW Women & GNC People in Tech and the TUC took the opportunity to show solidarity with trans people facing discrimination at work.
#WorkingWhileTrans If you ever face transphobia at work, it helps to have a union with trans and allied reps who will fight to keep you in your workplace and safe from harassment. Join @UTAW_uk. We don't cave to the TERF mob and fight tooth and nail for trans members 🏳️‍⚧

— trade union stan account (@UTAW_uk_women) November 9, 2021
No one should face discrimination #WorkingWhileTrans.

As unions, we're proud to represent workers of all backgrounds.

Getting together with other workers means you're stronger at work - that's why you should join a union. https://t.co/tHZkIvb1dm

— Trades Union Congress (@The_TUC) November 10, 2021
The big picture
According to a 2018 survey for Crosslands Solicitors, one in three employers say that they would be "less likely" to hire a trans person, despite this being unlawful discrimination under the 2010 Equality Act. Trans people face extensive discrimination in the workplace, leading to higher rates of unemployment, homelessness and poverty in trans communities.
According to Stonewall's 2018 LGBT in Britain report, half of trans people surveyed had hidden their identity at work to avoid discrimination, with one in eight trans people having experienced violence at work from a colleague or customer. The same report points out that one in four trans people have been homeless.
More recently, a 2021 survey of 400 trans people by TotalJobs on behalf of the trans charity Sparkle found that two thirds of trans people surveyed did not disclose their gender identity at work, with a third reporting that they had experienced bullying, discrimination or abuse in their workplace for being trans.
Anti-trans discrimination at work is endemic and deeply harmful. Everybody should be free to live authentically and exist in public. TSN calls for an end to all discrimination against trans people and we urge all trans people to join unions to seek protection from and fight against this all too common form of anti-trans oppression.
---
Tags: