What
On the 9th of October, the Integrated Science Society, a student society at Warwick University, announced via Instagram that they would be hosting a talk by prominent LGBT+ rights advocate Katy Montgomerie on the 14th of October. This was followed by a confirmation of this announcement on the Student Union website and an announcement on Katy Montgomerie's twitter account.
An account opposing Katy's views tweeted an image of Katy's announcement, sarcastically urging others to attend, and received replies with suggestions that others with opposing views attend. Considering how hostile many of these accounts are towards Katy, her ideas and the concept of transgender acceptance in general, their expressed intentions to attend whether real or exaggerated, ought to be interpreted as an intent to create tension and antagonism, both at the talk itself as well as the Twitter conversation.
In addition to many comments merely insulting Katy's appearance and misgendering her (despite such comments supposedly being in violation of the site's policy on hateful conduct) there were replies accusing Katy of spreading misinformation that would harm women and girls, a comment suggesting that Katy should be no-platformed for 'spouting dangerous left-wing garbage' as well as a reply predicting the talk might be cancelled and pre-emptively spreading a misleading counter narrative around the reasons for postponement. Many of these comments can be seen as attempts to intimidate Katy into backing out of the talk.
Soon after the announcement of her talk, Katy received two messages through her website which we have reproduced below.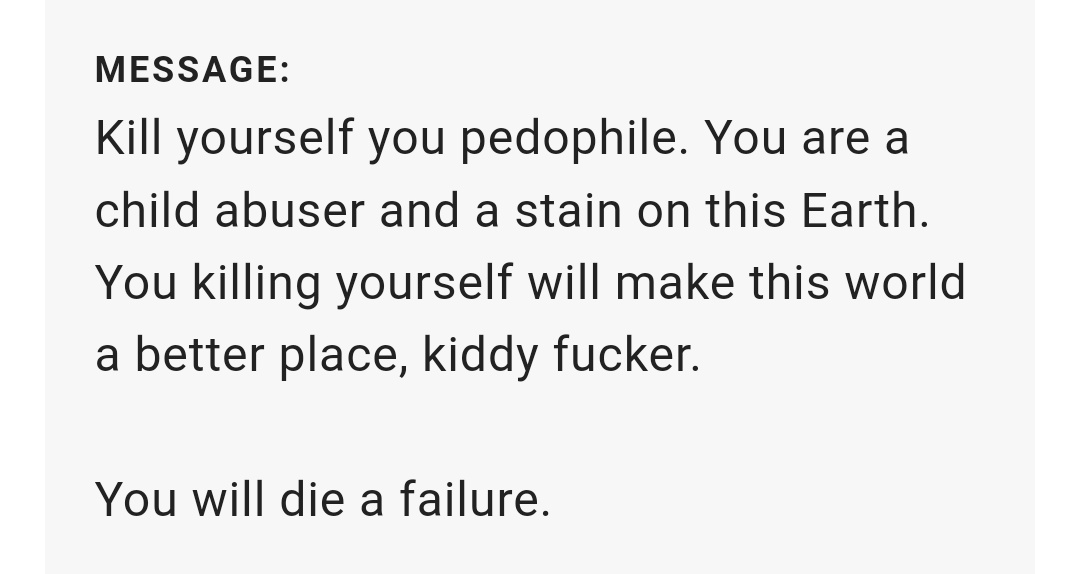 The first message accuses Katy of child abuse, and explicitly tells her to kill herself multiple times. This tactic of accusing queer people of pedophilia is becoming an increasingly common tactic amongst anti-trans radicals, smearing all LGBT and queer people as child abusers or somehow supporting child abuse.
The second message references Katy's talk directly, and attempts to justify their anger by phrasing their invective as a response to a made up and misrepresentative quote.
The aftermath
On the 13th of October, the day before the talk was scheduled to occur, Katy announced on Twitter that she had been informed the University was postponing her talk, citing "controversy surrounding the talk requiring increased security", suggesting that the University does not currently feel capable of providing a safe place to host the talk.
Trans Safety Network reached out to Katy for a comment who replied with the following statement
I am really disappointed that the talk has been postponed as I worked really hard on it and was excited to present it. The amount of hatred I received online on announcing, including rape and death threats along with all kinds of other misogynistic and transphobic abuse, was actually quite shocking even by the already horribly high amount I'm used to. It's ironic that my talk about combating hatred was postponed due to the amount of hatred I get for being a trans woman online. I'm looking forward to rebooking and giving my talk in the near future.
If the safety of external speakers cannot be guaranteed, then it raises concerns about the ability of Warwick University to provide a safe and secure environment for its own LGBT+ student population.
The University has previously been criticised by its own Pride society for mishandling talks by external speakers, including earlier this year when members of Warwick Pride claimed they were blacklisted from attending a talk by Conservative MP and then education secretary, Nadhim Zahawi and hosted by the University's Conservative Association. The group issued a statement prior to the talk condemning Zahawi's comments regarding trans rights and claimed that the event violated the Student Union by-laws on equality and diversity, announcing their intention to protest. The talk was not cancelled ahead of time, and the protest prompted Zahawi to leave the campus under the supervision of security.
Conclusion
Trans Safety Network have reached out to Warwick University via email and call upon the University to provide a public statement explaining their reasoning for why this event requires additional security considerations and why these can't be put in place, in addition to explaining what steps the University have made and will make in future to ensure that their campus is a safe environment for LGBT+ students, staff and visitors.
---
Tags: