Following the drama which has followed the Conservative Party over the previous weeks, many commentators are now hailing unelected Prime Minister Rishi Sunak's tenure as a return to "sensible" and "grown-up" politics. However, the inclusion of far-right, culture war embedded characters within the Cabinet has shown that Sunak has little control over the more extreme elements of his party. The Conservative Party remain very much the nasty party, and it is vital that the trans community is aware of three significant figures within the new Cabinet (Suella Braverman, Kemi Badenoch, and Dominic Raab) who are likely to play a significant role in the stripping back of trans rights.
Suella Braverman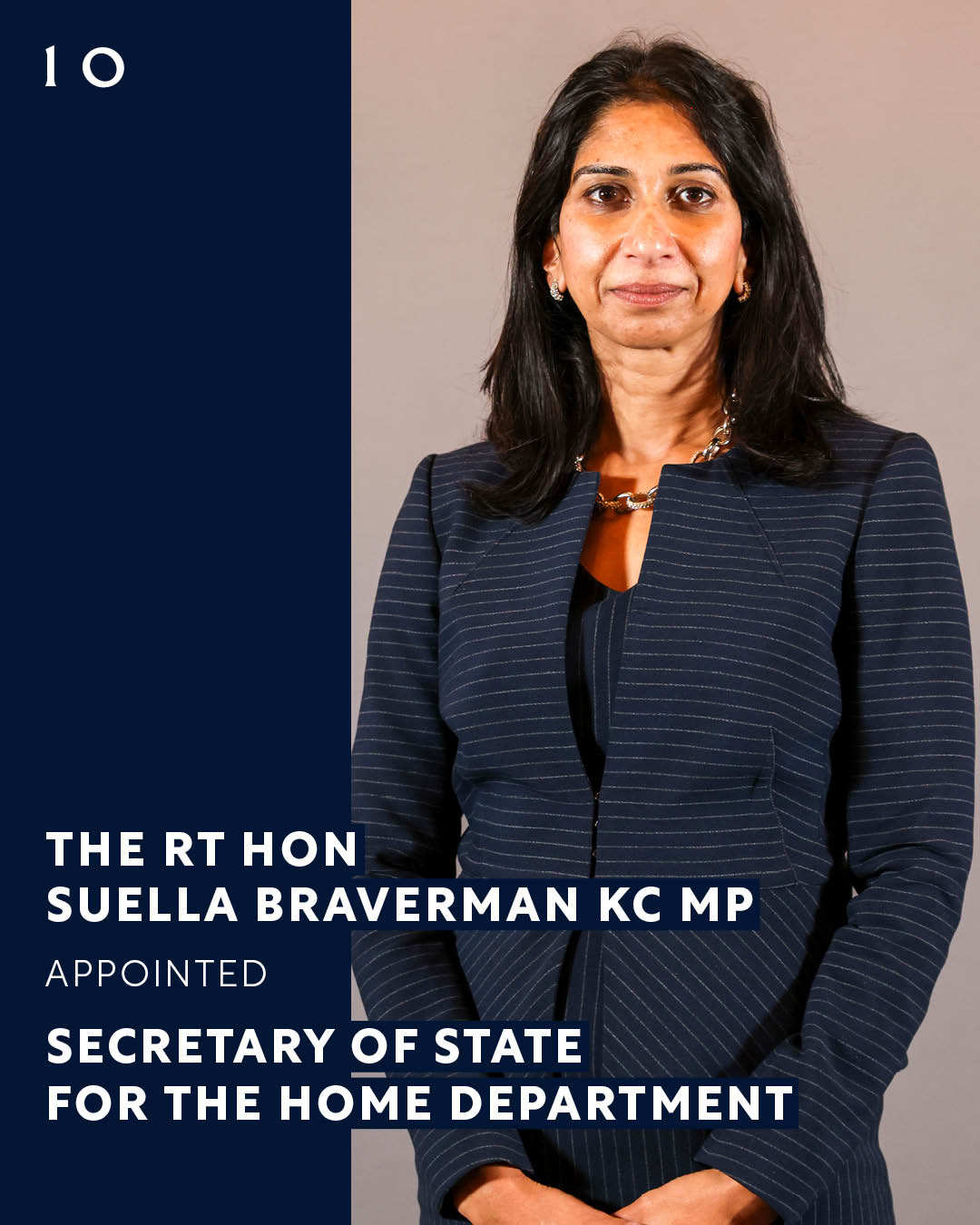 Despite resigning in disgrace from the role just six days earlier, today Rishi Sunak reappointed Suella Braverman as Home Secretary - one of the four Great Offices of State. Braverman has been a critical player in the culture wars - strongly supporting vicious attacks on migrants, such as the Rwanda deportation plan. Just one week ago she spoke in Parliament against the "tofu-eating wokerati" - a barely veiled attack on the trans community. A week before this, Braverman attacked the police for asking trans people to report incidents of hate crime against them, stating that the police should focus on "actual" crimes rather than "politically correct campaigns".
As Attorney-General, Braverman used her position to advocate for the rolling back of trans rights, as well as to misrepresent the current state of the law. During a speech to Policy Exchange - a right wing think tank which has recently launched its own project to undermine trans rights - Braverman made comments described by parents of trans youth as "evil" - seeking to undermine the rights of trans school children. Braverman stated it would be lawful for schools misgender trans pupils, as well as to impose an blanket ban on trans pupils accessing single-sex spaces - such as sports teams and bathrooms. As trans Barrister Robin Moira White has correctly stated, the speech amounted to a "master class in how to misinterpret Equality Law", which completely sidestepped the requirement underlining the Equality Act 2010's single-sex exemption - that such exemptions must be a proportionate means of achieving a legitimate aim.
Suella Braverman doubled down on her anti-trans position during her failed attempt at the Conservative Party leadership bid, attacking fellow contestant Penny Mordaunt for believing in "gender ideology" and that "trans women are women" - a stance which Braverman rejects. Braverman also attacked a maternity bill which Mordaunt had drafted for using the gender-neutral language of "pregnant person", described by Braverman as an "indulgence of extremism".
Braverman's voting record shows that her anti-trans rhetoric is rooted in wider anti-feminist and anti-queer politics. Braverman has consistently voted against same-sex marriage equality, as well as against the legalisation of abortion in Northern Ireland. It is clear that Braverman poses a significant threat to the rights of many of the most marginalised in our society - including trans people.
Kemi Badenoch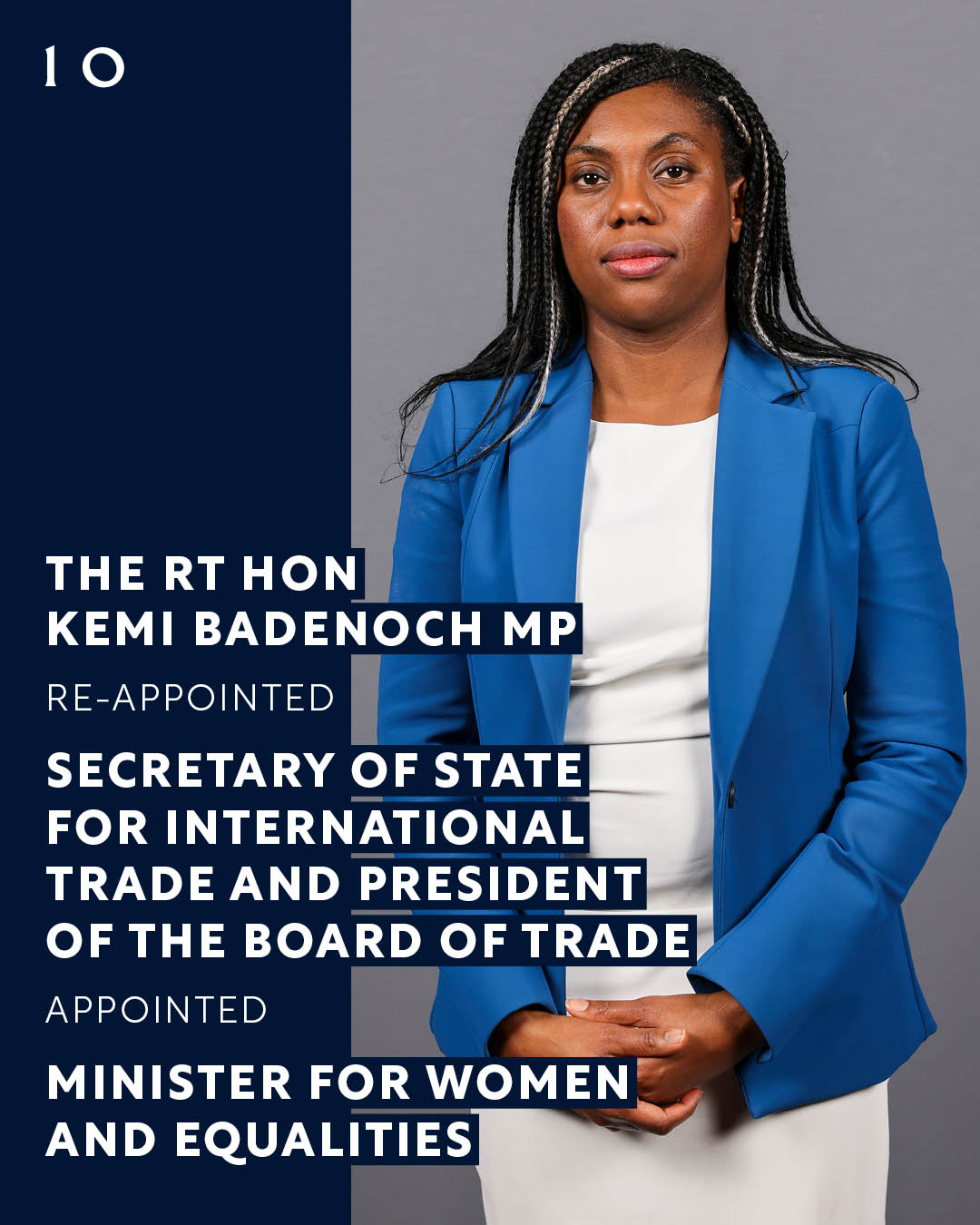 Like Braverman, Kemi Badenoch did not vote in favour of same-sex marriage equality or the legalisation of abortion in Northern Ireland, instead choosing to abstain on all such votes. Despite this shoddy record, today Badenoch was appointed as Minister for Women and Equalities. Further to this, Badenoch has been re-appointed Secretary of State for International Trade, showing Sunak's contempt for Women and Equalities as a brief; not even deserving one Minister's full attention.
Badenoch has been open in her contempt for LGBTQ+ rights. In an audio recording obtained by VICE, Badenoch appeared to mock gay marriage, questioned what "transsexuals" want, and described trans women as "men", complaining about their desire to use women's bathrooms.
Badenoch has dedicated a significant amount of effort to anti-trans campaigning. Whilst Junior Equalities Minister, Badenoch was condemned for meeting with the renowned transphobic organisation LGB Alliance - an organisation currently facing a legal appeal against its charitable status because of its hateful activities. LGB Alliance's sister organisations in Ireland and Australia have been labelled by expert researchers as "far-right hate" groups.
Another action taken by Badenoch whilst in the role was to write to the Financial Conduct Authority (FCA), pressuring them to withdraw proposals which would have allowed trans people to self-identify their gender for the purposes of reporting on workplace diversity. According to employees, the FCA then amended their policy to be "as transphobic as possible", requiring a GRC. However, following resistance from queer employees, the regulator the policy was altered to give no guidance on the issue whatsoever.
More recently, during her failed leadership bid, Badenoch spoke out against gender-neutral toilets, demanding their "abolition". At the launch event for her leadership, the venue's gender-neutral toilets were altered into segregated toilets by the addition of paper "men" and "ladies" signs.
The hostility of Badenoch to trans rights is evident, and the community needs to brace itself for significant rollback of rights under her tenure.
Dominic Raab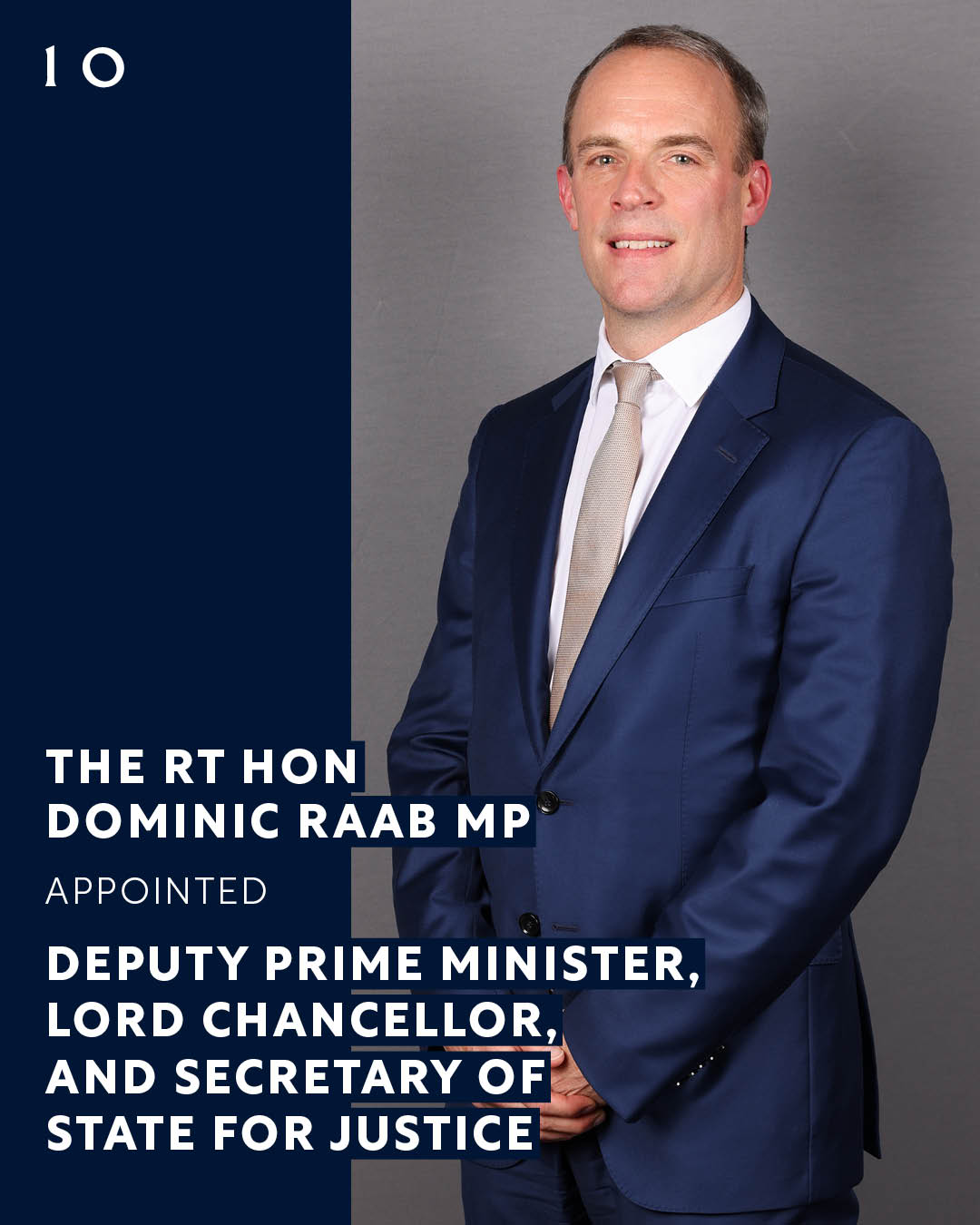 Another re-appointment announced today was that of Dominic Raab to Deputy Prime Minister and Secretary of State for Justice - roles he previously held prior to the tenure of Liz Truss. Although Dominic Raab's personal record on progressive social issues is relatively favourable compared to some of his peers in the Cabinet, there are rumours that Raab has felt unable to resist giving the trans culture war football a kick about.
In August, the Mail on Sunday reported comments from undisclosed "sources" stating that Raab planned to introduce a policy which would require Ministers to approve any move of transfeminine prisoners to female prisons if they had not had bottom surgery. The policy would also allow the Government to demand the removal of transgender prisoners. However, it must be noted that Raab who has not announced such a policy himself, told the Sun that there had been no sexual assaults by trans women in women's prisons since 2019, and said that the current policy was "the right approach".
Nonetheless, trans people should still be concerned by his appointment as Justice Secretary due to his wider policy aims. Raab is committed to ripping up the the Human Rights Act 1998, proposing to replace it with a "British Bill of Rights". Although his initial attempt at this was shelved under Truss, there are fears that he Raab is determined to resurrect the Bill. Indeed, so committed is Raab to this goal, that human rights law commentator David Allen Green has described the HRA as the "Moby Dick to Raab's Captain Ahab".
As I have previously discussed, the Conservative proposal to repeal the HRA is an issue which should deeply concern the trans community. The UK is a signatory to the European Convention on Human Rights, which allows individuals to bring human rights claims - and potentially be awarded damages - before the European Court of Human Rights in Strasbourg, where the Government can be compelled to pay damages to victims. In 1998, the Convention was incorporated into domestic law through the Human Rights Act 1998, meaning that rather than going to Strasbourg, complainants could bring human rights actions before the UK courts.
Raab seeks to repeal this Act, which he feels has been interpreted too generously in favour of claimants. This is because Section 2 of the Act requires the domestic Courts to take into account the decisions and interpretations given to the rights in the Convention by the Court in Strasbourg. Significant advances in rights, including for trans people, have derived from the analysis taken by the Strasbourg Court. For example, Christine Goodwin successfully argued that her right to private life was violated by a lack of legal recognition for her gender. This led to the Gender Recognition Act 2004.
By creating a 'British' Bill of Rights, domestic human rights cases will be excluded from the progressive influence of European jurisprudence. Moreover, the Government can deliberately shape the Act to limit and remove important protections. This puts our ability to uphold our human rights in significant danger.
---
Tags: