Anti-Trans campaigner Kellie-Jay Keen, otherwise known by her pseudonym Posie Parker, claims she has been permanently banned from petitions website Change.org after posting a petition which accused several major LGBT charities of being a safeguarding risk to children1.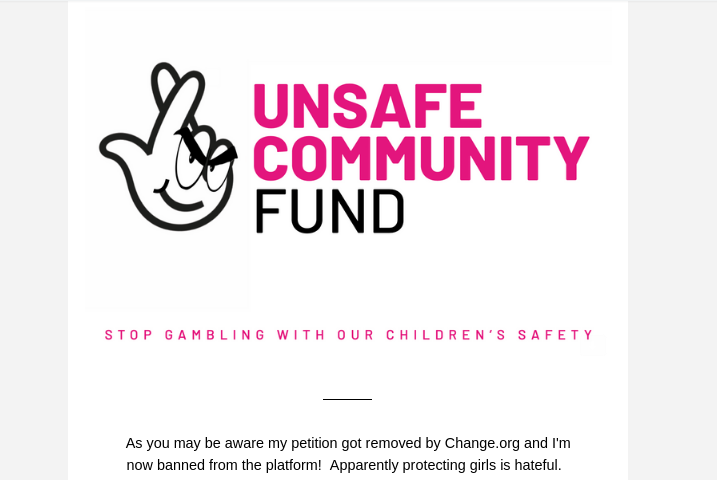 In the mailshot for the original petition Minshull said:
We would like to stop groups like The Proud Trust, Gendered Intelligence and Mermaids from erasing safe guarding practices getting funding to get into our schools. Fancy joining in? Please share far and wide.

— Kellie-Jay & Team, 28th March 2021
Attached to the mailshot was a picture of a poster by Proud Trust, reminding trans children that they do not need to put up with transphobic bullying or discrimination in schools, that they do not need documentation to prove they are trans, and have a right to use their own name, be taken seriously, to access facilities they feel most comfortable with and to ask for support at school.
Minshull has since opened a renewed petition, this time at the government petitions website. Trans Safety Network are unable to report on its contents as it was already under moderation at the time of reporting.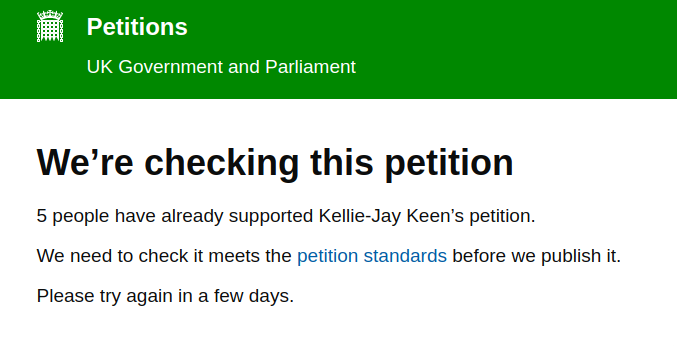 Updated: A previous version of this article contained speculation about the reasons for the replacement petition coming under moderation which we have removed for clarity.
---
References:
---
Tags: