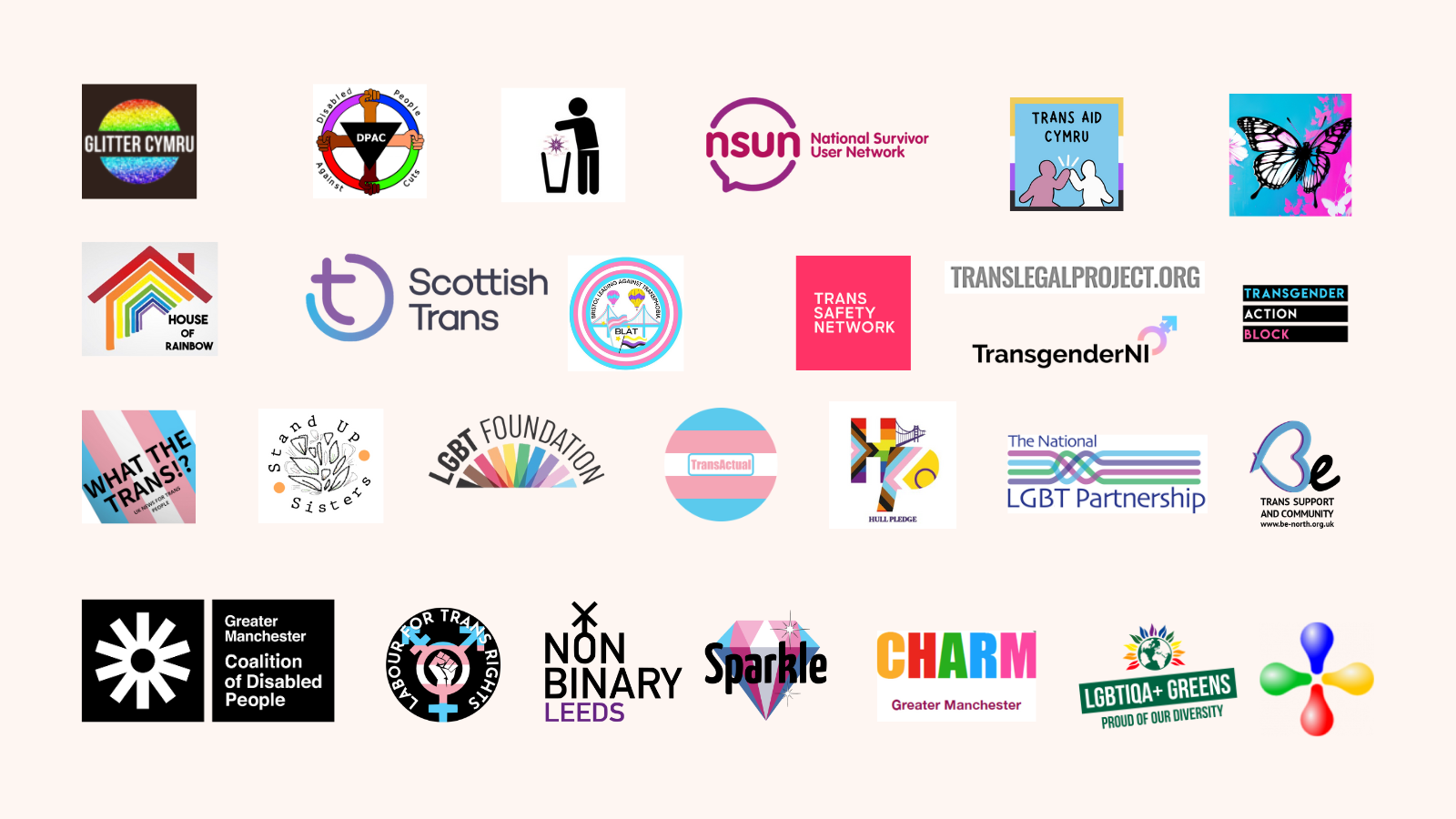 We are trans organisations, disabled people's organisations, academics, human rights defenders and professionals in related fields. We condemn in the strongest terms all attempts to undermine the bodily autonomy and medical choices of disabled people.
A recent legal action by the parent of an adult autistic trans person is seeking to block an elective procedure the autistic adult has consented to. The proposed judicial review runs contrary to the most basic principles of disabled people's rights in healthcare. In particular, it goes against the first and third principles of the Mental Capacity Act 2005, which state that a person should never be assumed to lack capacity simply because they are disabled (principle one) or because they are making a choice another person feels is unwise (principle three).
We note with concern that Paul Conrathe, the solicitor representing the parent in this case, is a conservative religious activist who has previously represented a man seeking an injunction to prevent his ex-girlfriend from terminating a pregnancy and was involved in the now overturned Bell v Tavistock judgement, which sought to limit young trans people's access to treatment. This was in direct opposition to the legal principle of Gillick competency, which also allows young people to access contraception without their parents being informed.
If the proposed judicial review goes ahead, it could seriously undermine the principle of disabled adults being assumed to have capacity to make decisions about their care until proven otherwise. It could also limit disabled trans and gender diverse people's access to transition care.
Beyond the legal issues, we believe that bodily autonomy is a basic human right which nobody should be denied on the basis of disability or gender. Autistic adults have a fundamental right to make decisions about their own healthcare, regardless of the opinions or prejudices of their parents.
Signed
(Accepting new signatures until the 21st June 2023)
Organisations
Trans Safety Network
Action for Trans Health Durham
AMASE (Autistic Mutual Aid Society Edinburgh)
Bristol Leading Against Transphobia
Clearview Counselling & Psychotherapy
Communication Workers Union, United Tech and Allied Workers Branch
Communities for Holistic Accessible and Rights based Mental health (CHARM)
DAN the Disabled People's Direct Action Network
Disabled People Against Cuts (DPAC)
Scottish Disabled Greens
Greater Manchester Coalition of Disabled People
Liberation
Manchester Disabled People's Access Group
National Survivor User Network
Nottingham Against Transphobia
Rainbow Greens, Scottish Green Party
Trans Liberation Front Bristol
Trans Pride South-West
The TRUK Group (Trans Radio UK, TRUK Listens, and TRUK United FC)
University of Exeter Feminist Society
University of Exeter LGBTQ+ Society
University of Exeter LGBTQ+ Staff Network
Individuals
A-A Summers, Digital Artist & Poet
A.E Jennings
Aaron Mills, Autistic Adult
Abbie Gorlov-Webster
Abby Harrison
Abs Stannard Ashley, PhD candidate and Teacher, University of Bristol
Adam Duff
Adam Preston, LGBT Foundation
Adele Jones, Autistic person
Aintzane Perez Masache
Al Smith
Alex Ashman, Doctor
Alex Cavazos
Alex D
Alex Healey
Alex Southgate, Research Associate
Alice K
Alice Lyford
Alice Nuttall, Writer
Alison Gaughan, Autistic person, socialist feminist and educator
Alison Phipps, Professor of Sociology, Newcastle University
Alison Thorpe, Counsellor
Alison, Advocate
Allison Ewing
Alyson MacKay
Amanda Hughes
Amelia Hansford, Journalist
Andre Wood, Transgender person
Andrew Cole
Andy Bateman, Counsellor, Lecturer in Counselling
Ange Harker, Queer deaf neurodivergent; trans ally.
Angeline B. Adams, autistic lived experience consultant (healthcare and research)
Ann Alamu, Student
Anna Palmer, Counsellor at Anna Palmer Counselling. St Andrews.
Anne-Marie Martin, Trainee Clinical Psychologist
April Smith
Ash Shaikh, Student
Ashley Hankins
Ashley Hatt
Atlas, Member of Resisting Transphobia in Edinburgh
Avery Tischer
Baylee Sowter-Halling
Beatrice Hughes, Senior Art Psychotherapist
Becki Clitsome, Therapist
Ben M. Davies, Independent Filmmaker with Autism
Berni Kotelko, N/A
Bernice Elaine Roust, An autistic trans woman
Bodhrán Mullan, Actor, writer, autistic educator
Bridget Holtom
Bronia Korabinska, Teacher
C T
C.S. Neptune
Caitlin Cunningham
Caitlin Jones, Filmmaker
Caoimhe Donnelly
Carla Stevens
Carly Miller
Carmel Smith
Carole Millard
Cassian Lodge, nonbinary and autistic, runs Gender Census
Cat Burton, Chair, GIRES
Cath Booth, Organising committee member, Pride in Whalley Range, Manchester
Cath Nichols
Celia Birtwistle, Human Being
Cha-Yoel Korn, Psychotherapist and Clinical Supervisor, LGBTQIA+ and HIV/ Hepatitis Activist & Ally
Chantal Clark
Charlene Jones
Charles Parry
Charli Clement, Autistic Activist & Lived Experience Consultant
Chelsea Kearin
Cheryl Morgan
Chloe Amy Edmondson, Trans woman
Chloe Juden
Chloe Lydon-Griffin, Union rep
Chloe Nichols
Chris Browne
Chris Connor
Chris Fielding, LGBT+ and Disabled Youth Worker
Chris Hilliard
Chris Oxborrow, Neurodivergent Psychotherapist, Beyond Counselling
Chris Ross
Christine Gow
Christopher Cassidy
Christopher Payne
Ciara McCarthy, Disability Activist
Claire Ashton
Claire Dunlop, Academic
Clara Jones
Clara Wright
Clare Sainsbury, Autistic person and author
Cormac Kelly, Trade Unionist
Councillor Chris Northwood, Deputy Group Leader, Manchester Liberal Democrats
Daira Emma Hopwood, Cryptographer, activist, and autistic trans woman
Daisy J Taylor
Daisy Long, Director, ex-social worker
Danica Taylor
Daniel B
Daniel Hayes
David Chan
David Webster, PhD Candidate, University of St Andrews
Davie Raaphorst, Autistic trans person, full-time carer of autistic children
Dayna Craig
De Patterson
Debra Wald
Del Wood, Social Care Professional
Delphine Farley
Diane Redhead, Transwoman with autistic son
Diane Rumenapp
Dion Georgiou, Senior Lecturer in Modern History and Politics, University of Chichester
Dionne Dyer
Dorian
Dr Adi Kuntsman Researcher
Dr Amanda Keeling, Lecturer in Law, University of Leeds
Dr Daryl Hodge, Trans & autistic academic, University of Liverpool
Dr Emma Sheppard, Lecturer in Sociology, Coventry University
Dr Harvey Humphrey, Researcher, Universities of Strathclyde and Northumbria & Queer Disability Studies Network
Dr Hil Aked
Dr Liz James, Autistic, Transgender Woman
Dr Ria Cheyne, Senior Lecturer in Disability Studies, Liverpool Hope University
Dr Ruth Knight, Lecturer in Psychology
Dr Ruth Pearce, Lecturer in Community Development, University of Glasgow
Dr Sally Morgan, Clinical Psychologist
Dr Tilly Alton, Researcher, Lancaster University
Dr Tobias Atkinson, Associate Lecturer, Lancaster University
Dr Tom Bowers, NHS Doctor
E Furber, Social worker, Approved Mental Health Professional, Best Interests Assessor
E Shaw
Ed Jones
Eden Ladley, National Union of Students LGBT+/Trans Officer (2018-2020)
Edward Grantham, Fraud Analyst
Eiri Uesugi
Eirnin Jefford Franks
Eleanor Curran, Transgender Youth Activist
Eli Harris, Queer Network Coordinator
Elicia Boulton, Counselling Psychologist
Elijah Smith
Elizabeth Fraser, Autistic Adult
Ella Trudgeon
Ellie
Elliot Fortune, Senior Data Analyst
Elliot Kwabena Akosa
Em Rabantheng
Emily Cynthia, Nightingale Activist
Emily Dove, Support Worker
Emma Day
Emma Hardie, Autistic person
Emma McLaren
Emma New, NHS Psychiatrist
Emma Wolfe
Erica Thomas
Erin Strong
F Clarke, Transgender adult
Faye Johnson
Finn Copper
Fiona Robertson, Disability Justice Activist
Flavio Matani
Fleur Perry
Forest Parkinson Mearns
Fran Amery, Senior Lecturer, University of Bath
Frances Coppola, Economist, author and blogger, Coppola Comment
Francesca Zerva, Key Worker, Rushton Futures
Francis Stanganelli
Frankie Markland
Friday Clout
Geoff Ryan, Mental Health Nurse (retired)
Georgina F
Glen D, Autistic and Disabled Adult
Grace Hart
Hannah Lisney
Hannah Walker
Hannah-Phoebe Bowen, Counsellor mBACP
Haydn Antoniw, Citizen
Heather Elizabeth Reynolds, LGBTQ+ and Trans woman
Heather Hooper, Disability Activist, DPAC
Helen Dale
Helen Stubbs, Supporter
Helen Studer
Hilary Rosser, Retired midwife
Hilde van den Brink
Inbar Tamari, Teacher
Ioana Cerasella Chis, Doctoral researcher, University of Birmingham
Ion Whelan
Isaac Stywarde, Autistic Adult and Transgender Man
Isabella Hayes, Social worker
Isabelle Schoelcher
Ittai Welby
Izzy Jarvis, College Librarian, City College, Norwich
J Bee, Registered Mental Health Nurse
J Zhu
Jack Lydon
Jack Newbold
Jack Sergeant, Freelance Visual Development Artist, Duncan of Jordanstone College of Art and Design
Jacqueline Haselden, Trans Woman
Jacqueline Turner
Jamei-Jade McGregor-Coope, Neurodivergent Trans Woman
James Dunn, autistic trans man
James Le Cuirot, Father of an autistic girl
Jamie Heckelman, Account Manager, Microsoft
Jamie Jenner, Social Work Student
Jane Connor
Jane Cullen
Jay Murray
Jaz Sakura-Rose, Activist and Researcher
Jazz Roberts
Jen F
Jen Senger, Trans Ally
Jenni Thompson
Jennifer Dean, trans woman and activist
Jennifer Snow, Counsellor working with neurodivergent adults, Jennifer Snow Counselling
Jensen Harbron
Jess O'Thomson, Disabled Trans Legal Researcher
Jess Pumphrey
Jessica Gardner
Jo Adell, Autistic adult
Jo Rowan, neurodivergent counsellor/therapist
Joanne Doyle, Software engineer and queer parent
Joanne Hawkes
Jocelyn Price
John Adam Lindley
John Lippmann
John Solomon
John Williams, PhD
Jokina Richardson
Josephine Sirotkin, Doctoral Researcher, Centre for Disability Studies, University of Leeds
Jude Bentley
Jude FireSong, trans, disabled, neurodivergent artist, poet, and writer
Julia Binger
Julia Georgiou, General Secretary NHBCSA and LGBT+ Committee member
Julie Kubelec
Juliet Birkbeck, Counsellor, Spiritual Director
Juliet Davie, Pharmacy Dispenser
Juliet Rudman, PhD Candidate, University of Leeds
Kai Carver, Neurodiversity Specialist, Responding to Autism
Kal Bedford
Kaleb Dutton
Kara Bridgeman
Karen Gill
Karl Mortimer
Kate Joester
Kate M, Mother of a trans woman
Katharine Huey
Kathryn Thompson, LGBTQIA+ Affinity Group Lead
Katy Walker
Katy Williams
Kay Bingham, Individual/Therapist
Kay Whitehurst
Kaz Self, Trans pride organiser and runs mental health charity
KD Smith, Third Sector Development Consultant
Keira James
Kieron Thomson-Turnage
Kim Roberts
Kimberly Barber, Filmmaker
Kit Dunnage Curtis
Kyle Crompton, Support Worker (For Disabled Adults)
L Brown
L Wilkins
Lara Poulter-Ward
Lauge Thomsen
Lauren Gilbert
Lauren Kirby, Organiser, Bristol Crossroads Transgender Support Group
Leanne Collier-Wilson, Neurodivergent Queer
Leigh Cooke
Leo George
Leona Skene, Freelance editor
Lili Hornyai, TNBI Care Coordinator, WellBN
Lily Marden
Lisa Rüll, Study Support Tutor (Disability), University of Nottingham
Lisa Severn
Liv Huett
Liz Walsh, Ally
Liz Yeates, Volunteer coordinator
Louis M
Louise Stretch
Luan Morris
Lucy Barnes
Lyndsey Moon, Psychologist
Lyra Harte, Disabled autistic trans woman.
M George, Audhd disabled queer adult, partner & parent of autistic/adhd queer trans person
M Mehta
Madeleine Ayling, Counsellor
Mara Fojas, Parent and advocate
Marie Wilson Smyth, Mother of trans daughter
Marion Dawson, Electronic Notetaker for Disabled People, queer and neurodivergent person
Mark Findlay
Marlee Berckmans
Martha Goddard
Martina Johnson
Mary-Ellen, Gay, Disabled, retired NHS Nurse and staunch ally of Trans & other LGBTQIA+ people, DPAC
Matt Najmowicz
Matthew Brown
Matthew Moore
Matthew Saunderson
Matthew Smith
Matyas Kinde, Principal Software Engineer and ally
Maxine McCarthy
Maz Michael, Accredited Therapist
Melissa Stoney
Meredith Bentley
Merry Mushka, Independent Trans Educator & University Visiting Tutor
Mia Cassey
Micah Neilson
Michelle Martin
Mike Johnson, Community organiser & UTAW Rep
Misty Schmidt
Morgan Di Lieto
Munzar Sharif, Trainee Clinical Psychologist, University of East London
N S Lucas, Transmasc person
Namaa Al-Mahdi
Naomi Bardsley, Disabled Person
Naomi Meneghini-Relf
Nariese Whyte, Convener of the Disabled Greens, a fellow Autistic Trans Disabled Adult standing in solidarity.
Nazan Linet
Neil Currie
Neil Rhodes
Nicholas Dunn
Nicola Anne Beck
Nicola Hodson
Nicola O'Riordan
Nicola Wheeler
Nicole Collingwood
Noah Charters-Rousseau
November Choles
Nyika Suttie, Student Culture and Inclusion Training Officer
O Cole
Olivia Taylor
Onni Gust, Associate Professor of History, University of Nottingham
Owen Blacker, Autistic man and human rights defender
Parker Longmore
Paul Crofts, Individual
Paul Munday, Parent
Paula
Paula Peters, Disability Rights Activist & Trade Unionist
Peter Corbett, Autistic Adult
Peter Greenwood
Philip Inglesant
Phoebe Smith
Piers Beckley
Polly Atkin, Writer
Polly Llwynfedwen
Professor Jana Funke, Associate Professor, University of Exeter
Psotle
Quentin
Rachel Beck
Rachel Charlton-Dailey, Journalist and activist
Rachel Reese, Director
Rachel Walters
Rebecca Benson
Rebecca Cavanagh
Rebecca Hills
Rebecca Pillinger
Regina Lautwein
Reid Manson
Renée Dawn Hazlet
Rhiannon Blake, Disabled activist
Rhiannon Olivaw
Ria Patel, Councillor
Richard Lawley
Robert Chapman, Senior Lecturer, Sheffield Hallam University
Robin Skyer, Doctoral Researcher, University of Southampton
Robyn Collis
Roland Rance
Rosie H
Roslynn Azzam, Registered Social Worker
Ross Higman
Ross Higman
Rowan Fortune
Ruairidh MacLean
Ruth Barrett-Thoburn
Ruth Holliday, Professor of Gender and Culture, University of Leeds
Ruth Walshe, Community Engagement Worker
Ryan McLeod, Community Development Worker
S Loosmore
Sage Ellis
Sally Outen
Sam Feeney, Counsellor/therapist and trans man
Sam O'Thomson
Samantha Blyth, Foster Carer
Samuel
Samuel Hall, GP, WellBN
Samuel Harvey
San
Sandra Wyman, Womens Officer
Sandy Fosh
Sara Westrop
Sarah Barrett
Sarah Boon
Sarah Browning
Sarah Costello
Sarah D
Sarah Jones
Sarah Lewin-Rose
Sarah W
Sarah Walton
Sariel Arjona
Savan Gandecha
Scarlett Wilkie
Selene Rafaela Kapsaski, Filmmaker, Après Vague Productions
Seonaid Ashford
Serena Gallagher
Sharon Goldstein
Shivakaran Sivanathan, Unite member and amputee
Sian Bedford
Sindy Wood, Parent of transgender person
Siobhán Cannon-Brownlie, Disabled Lecturer & Theatre Maker
Skye Laing
Skyler Avery
Sophie Black, Parent
Sophie Mattholie, Trustee, The LUNA Project
Sophie Waters
Stacey Duke
Stefan Liberadzki
Stephanie Gregory, Medical professional and trans ally
Stephanie Keyes
Stuart Gore, Lecturer
Sue McPhail, Singing teacher
Susan Francis
Susan Francis
Susan Martyn, Diamonds
Susan Pashkoff
Susanna Hartland
Susi Mae Waters
Susie O'Connor
Sylwia Kolasinska
Tabitha Fuster-Burnett, PhD Student, University of Leeds
Taejah McKnight
Tanya Stocker
Taylor Ellwick
Terra Shea
Thalia Tamari
Thaniel Walker
Theo Parker, Autistic person
Theodora Rosenberg, Author
Theresa Dewa
Thomas Gibbs
Thomas Venhuizen
Tiffany Knight-Hughes, Member, Unite the Union
Tim Campbell
Torran Turner
Trevor Clarke
Tyler Jenkins
Tyler Jones
UltraHylia
Vanessa Whitfield, Program Manager, Microsoft
Will Epps
Will Jeffery
Winter Hart
Yoma Winder
Zack Gray, PhD candidate
If you want to add yourself or your organisation to the list of supporters for this letter, you can sign here
---
Tags: