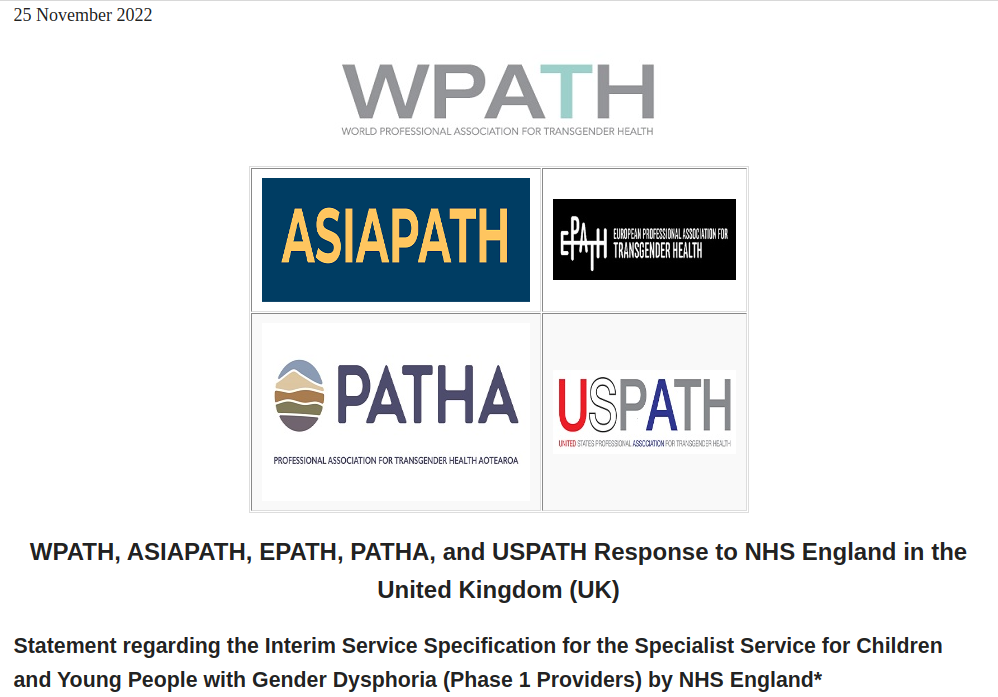 Several major professional associations for health professionals who treat trans patients have come together to raise major concerns about the way the NHS England proposes to run the gender clinic for under 18s. The global (WPATH), Asian (ASIAPATH), European (EPATH), US (USPATH) and New Zealand/Aotearoa (PATHA) associations for trans health professionals have all joined and endorsed a highly critical statement previously published by AUSPATH.
These organisations are raising strong concerns about the recently published service specification for NHS trans healthcare for under 18s in England and Wales. AusPATH says that they find "serious flaws in this document, which sets out a plan for a service for gender diverse children and young people in England that is likely to cause enormous harm and exacerbate the higher rates of suicidality experienced by these young people in the context of ongoing pathologisation and discrimination." AusPATH "urges NHS England and Wales to reconsider its approach". The service specification was published this October and lays out how the service will run in the interim before the opening of the new regional services in 2023 or 2024.
The statement raises eleven major issues, including concerns that the service specification does not treat trans and cis patients equally, pathologizes trans people and makes "outdated and untrue" assumptions about transience of trans identity. Further, the expert health bodies are concerned that the draft specification is not patient centered and does not focus on the needs of individual patients, instead focusing on requiring the patient to prove a history of gender dysphoria, gatekeeping access to care, and unspecified "risks of an inappropriate transition". Concern is also raised about the decision to recommend safeguarding referrals for parents helping their children access non NHS care, both for parents being investigated and for doctors who could be censured for refusing to make an inappropriate safeguarding referral.
The statement echoes concerns raised by UK LGBT+ organisations, who published guidance outlining their concerns. Stonewall, Mermaids, Gendered intelligence and Trans Learning Partnership are concerned that the service specification risks denying children access to the waiting list, medicalises social transition, implies that accessing private care is a safeguarding issue, restricts access to puberty blockers, contradicts international best practice and lacks evidence.
The NHS has not publicly responded to the statement from AusPATH, or concerns from UK LGBT+ groups, although a public consultation is being held. It is unclear if the NHS commissioning, who are responsible for drafting service specifications, intend to continue along this path in the face of international condemnation.
---
Tags: