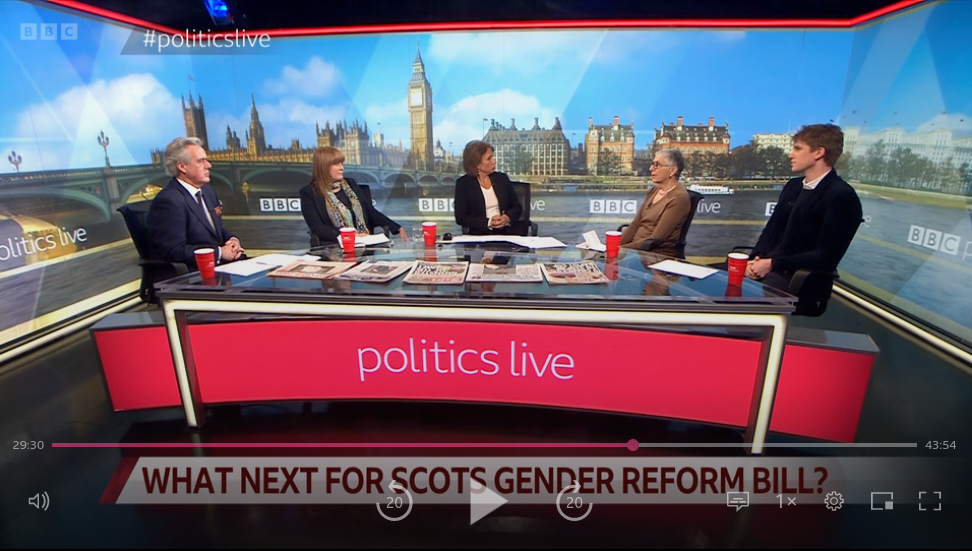 Major news broadcasters in the UK have started using trans voices to do more than fulfil their regulatory requirement for balance on controversial issues or make us debate reactionaries for sport. Watch the breakfast, lunchtime, early evening and late bulletins on the main linear UK TV channels and you'll notice something different. Something has changed, and it's the Scots wot done it – or rather the Westminster government's attempt to overrule Holyrood on devolved matters.
Solid ally and popular light entertainment character Lorraine aside, we are used to a rough ride on UK broadcast media these days. Even if we disregard anti-woke channels like GB News and Talk TV. Since the current moral panic began, magazine programmes like This Morning have routinely discussed our rights with no trans people at all (nor even pro-trans cis people) present and anti-trans activists have told lies with minimal pushback. Current affairs programmes such as Politics Live maintain an unofficial policy of allowing inclusive panel members to be mocked by politicians and journalists and relegating trans voices to pre-recorded clips and short "down the line" comments. However, an issue that the establishment take seriously is at stake – democracy and the state of the Union – and it has occasioned a different approach to trans portrayal, at least on the main news bulletins on mainstream channels.
I watch all the early evening news programmes every day (out of professional academic interest) on BBC, ITV and Channel 4. In addition, I try to catch least one other BBC bulletin (Breakfast/1pm/10pm) and Newsnight most days, and keep up with Sky News via their clips for social media and rolling news when out and about or needing background noise. As the Gender Recognition Reform (GRR) Bill progressed through the Scottish Parliament, coverage began to increase on the BBC, ITV, Channel 4 and Sky News.
Following much discussion of the Scottish Parliament's consultation period on Mumsnet and Twitter, a thoroughly representative selection of respondents were invited to give oral evidence in multiple sessions of mixed backgrounds. UK-wide news bulletins mentioned the consultation and the evidence sessions in passing, if at all. Once the Bill itself was presented, there was a single day of short interviews with both sides on the news bulletins to explain what the changes meant to them. The trans representation was usually young and inexperienced Scots – or cis charity spokespeople with English accents. This was contrasted with more time and sympathy given to strongly-accented older Scottish women representing the gender critical position (usually For Women Scotland, Scottish Feminist Network etc). The only balance came when MSPs were the voices heard instead of activists, with both positions given equal weight.
The GRR Bill ended Stage 1 on 27 October 2022. The bulk of coverage in the rest of the UK focused on the resignation of former SNP minister Ash Regan , who opposed the Bill – despite her previous low profile outside Scotland. SNP MSPs supportive of the Bill were rarely invited for comment on her resignation and trans people not at all. Footage of protests and rallies outside Holyrood at this stage was presented as trans people and allies waving flags and shouting, and an equal number of older Scottish women dancing and singing while arm in arm. Video footage on Twitter showed this portrayal to be inaccurate on all counts.
Thanks to Beth Douglas, leaks from anti-trans activist groups suggest that the Conservative MSPs helped Scottish Feminist Network and other gender critical activists to stuff Parliament's public gallery and made sure trans people and allies struggled to obtain tickets for Equality Committee meetings. As the Bill progressed through Stage 2 at Holyrood throughout November and December, all remained relatively quiet on the media coverage front outwith Scotland.
Once late December and Stage 3 hit, the amendment debates shook up the hacks watching: 153 were tabled for discussion, as the Scottish Tories essentially tried to amend every line of the Bill to delay proceedings as much as possible. Their filibustering meant they made the late and early news bulletins for debating so long that all the lights automatically turned off in Holyrood because they went on past midnight. The Bill passed by a large majority and with support from all parties on 23 December 2022. Then all hell broke loose.
Pelvic physiotherapist and self-identified comedian Elaine Miller became the internet's Main Character for a day. She responded to the Bill's passing by standing up and pulling up her skirt to reveal a giant homemade merkin (pubic wig) in an approximation of the form of sexual harassment colloquially known as "flashing". Miller was previously best-known for a gender critical Edinburgh show, Viva La Vulva, which was notable as her flyerers and fans harassed trans performer Jen Ives. Those in Parliament were shocked and initially thought Miller had really exposed herself, with children and other vulnerable people present.
Broadcasters kept calling the Bill "controversial", and made an interesting (and seemingly coordinated) choice in their editing of the moment of its passing. All the main bulletins used audio of Miller shouting "shame on you!" to illustrate their point – the Bill is controversial and shocking – but not the visual of her antics in the public gallery accompanying her outburst. Instead, they paired this audio with footage of the MSPs in the chamber. This is important because later, in January 2023, one broadcaster did run the clip.
Rumours of Sunak blocking royal assent for the Bill by invoking the nuclear option – section 35 of the Scotland Act – worried UK commentators. This was to be the first use of a section 35 order since the Act came into force in 1998 and had serious implications for the Union and for devolution as it could be used to block any law Westminster doesn't like. Suddenly coverage of this pivotal moment required trans voices for more than a gesture at balance or mockery and we were being interviewed everywhere, without being undermined; even if gender critical activists and politicians always got to speak last. We were needed to clarify, explain and be heard.
The apex (so far) of the change in approach was Channel 4 News' evening bulletin on 17 January 2023. Both positions represented by both live and recorded interviewees, politicians and activists, but finally the clip of Elaine Miller was shown in full. She was interviewed and the questions drew attention to the lack of relevance of her comments to the GRR Bill, instead of just letting her speak unchallenged.
While this moment may be short-lived and do more to boost individuals' media profiles than help the broader movement to galvanise and gain support, it's a start. We know they can do it. Since 2016, any story sympathetic to trans people has been lifestyle fluff at best. Most of our coverage has been misrepresentation. Let's see how it goes…
---
Tags: