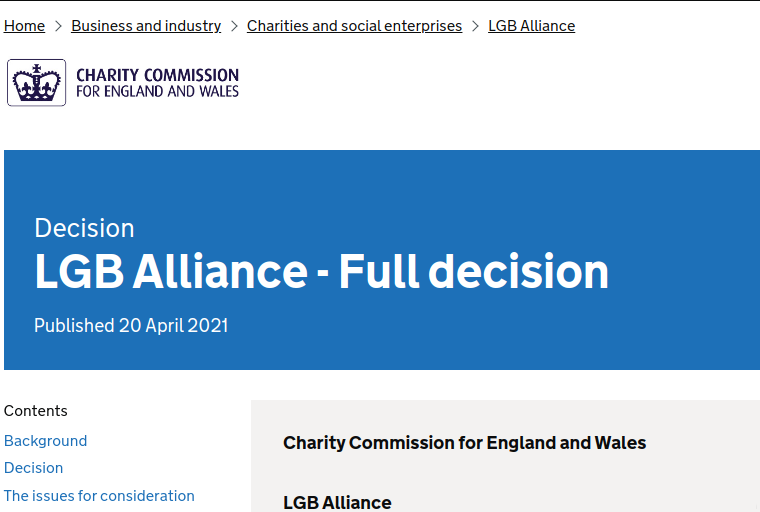 Anti-trans group LGB Alliance have been granted charitable status by the Charity Commission1. Until February 2021, the chair of the Charity Commission had been Tory peer Tina Stowell, who has been noted in the past for her defence of the 'spousal veto' amendment to marriage equality legislation2.
LGB Alliance applied for charitable status in March 2020, so the case would have still been ongoing while she stepped down, as a decision was only published this month.
The full decision, published yesterday,3 features discussion of possible objections to the granting of charitable status, including reference to their social media communications. The commission "noted some evidence of social media activity (information that was posted or re-posted on social media) by LGB Alliance and considered that some of the language used may be regarded as inflammatory and offensive" and was "concerned that, although it promoted the rights of some groups, the activity appeared to involve, at times, demeaning or denigrating the rights (recognised by law) of others".
In response, the "LGB Alliance stated that it intended to adopt a less defensive and confrontational approach to social media engagement. The revised social media policy places a focus on the language and tone of the social media posts and states that staff must never: unlawfully discriminate; make offensive, abusive or threatening comments or harass or bully other people in any way or breach any laws or ethical standards".
This means that it is now a matter of public record that online communications by LGB Alliance or LGB Alliance staff have been recognised by official bodies as being inflammatory and offensive as well as demeaning and denigrating the rights of others. TSN have previously profiled the LGB Alliance4, including their members' promotion of homophobic conspiracy theories5,6,7. The group was also accused by Scottish MP John Nicolson of instigating Twitter harassment against him8.
---
References:
---
Tags: