Following a meeting with members of the UK trans community, UCBerkeley associate professor Grace Lavery withdrew from a virally advertised debate, to be held during her upcoming UK book tour. During the meeting, community members raised concerns about the debate promoter's routine publishing of far right content. Afterwards, Lavery published a statement withdrawing from one debate, on the basis of these concerns, announcing that she has plans for another debate which may go ahead. This statement was published through her friend Jacqui Shine as a result of Lavery's Twitter account being suspended today for remarks about Queen Elizabeth the second, in an interesting turn for an ongoing bitter public conversation with frequent accusations of trans advocates being against free speech.
What resulted from this was an absolute onslaught of abuse and mockery, much of it targetted at the fact that Shine, Lavery's friend, is undergoing treatment for Cancer. Shine referred directly to this in their original tweet, asking that people do not shoot the messenger, and presumably anticipating the toxicity that would come.
Members of Trans Safety Network were at the community engagement discussion with Grace Lavery and express our respect for her decision to heed calls to step back from involvement with that particular platform. In solidarity with Jacqui Shine who had no involvement in the debate, and was simply relaying a message we are going to document here some of the extensive abuse they faced.
For too long, this sort of casualised abuse targetting people associated with trans public figures has been used as a means of isolating and intimidating trans people, friends and family.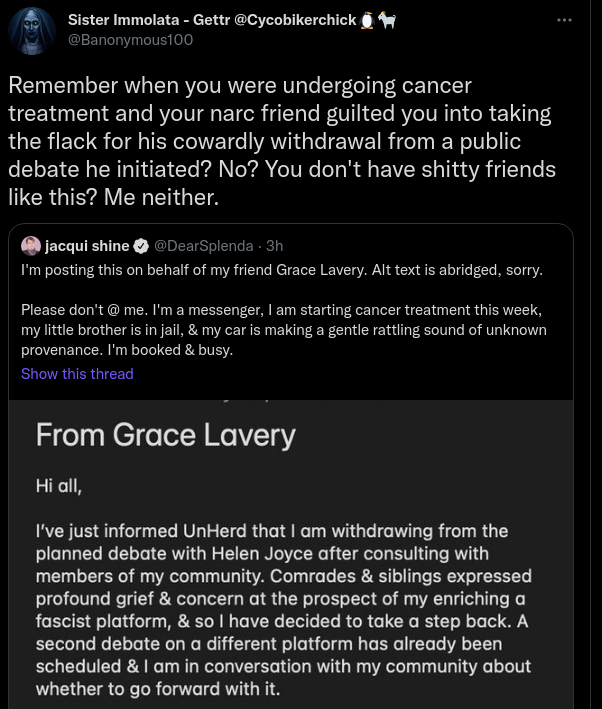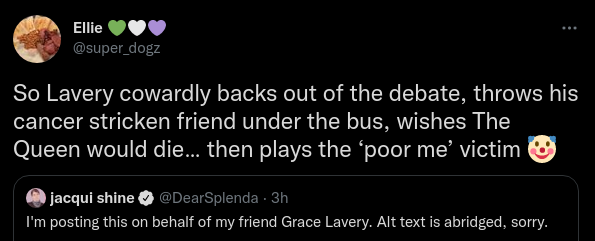 The abuse continued for hours, including after Shine had clearly asked to be left out of being a proxy for Gender Critical rage at Lavery.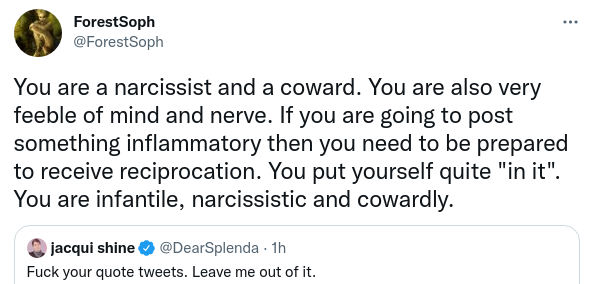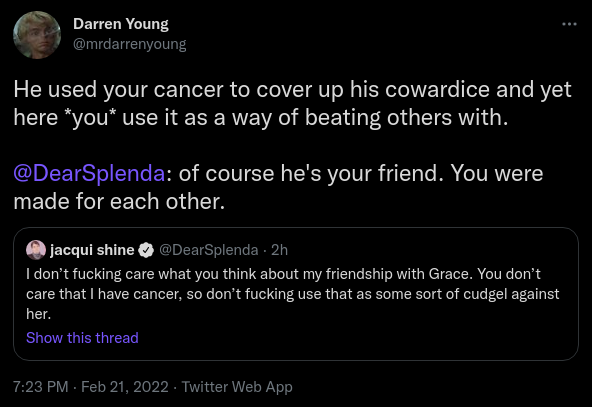 Some users mockingly said "Take care of yourself and let [Grace] take care of [her]self", while continuing on the pile-on.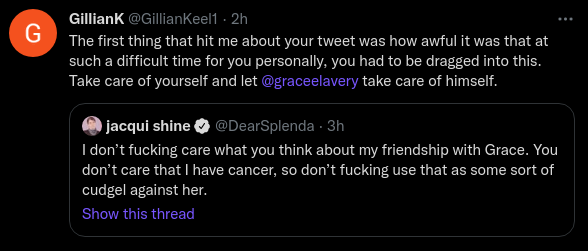 Others accused Jacqui, someone who has no responsibility for Grace Lavery's actions whatsoever, of culpability for uncited claims regarding women being allegedly placed with rapists.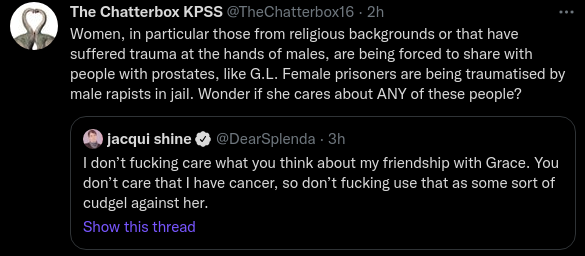 Others still accused Shine of emotional manipulation for posting the notice and asking that people leave them alone.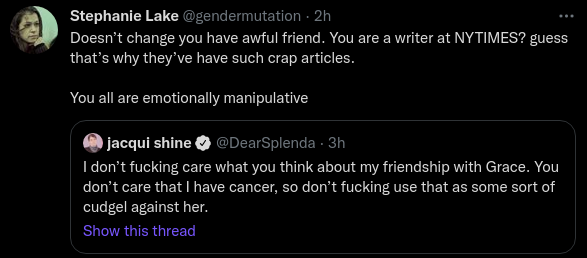 In all, well over a hundred quote tweets were made targetting Jacqui Shine, in largely similar fashion with large numbers showing absolutely no self-awareness that they were interacting with someone who had no reason to answer for Lavery.