Editor's note - more examples continue to pour in of this disrespect for a trans girl's life being taken, including from high profile figures. The following coverage is indicative rather than exhaustive
---
Labour MP Jess Phillips has been subject to significant backlash by 'gender critical' activists for including Brianna Ghey, a 16-year-old trans girl recently killed in Warrington, to the list of femicides which Phillips reads out in Parliament annually for International Women's Day.
Several gender critical organisations and individuals instigated a pile-on of Phillips to 'judge' her for including Brianna Ghey's death on the list, claiming that her inclusion was 'an insult to the memory of the women and children tragically killed this year'.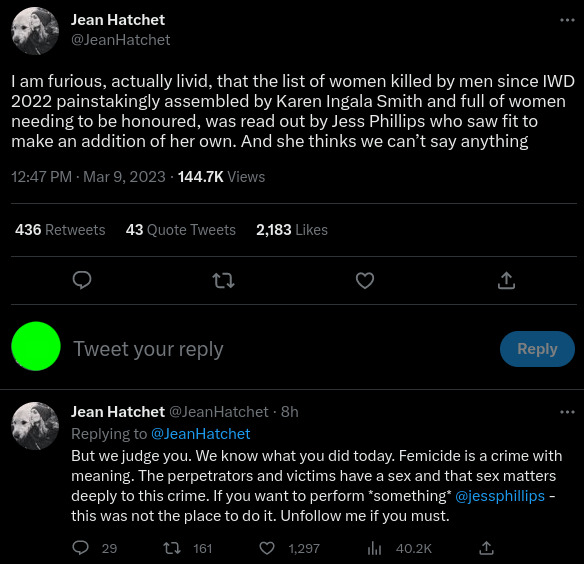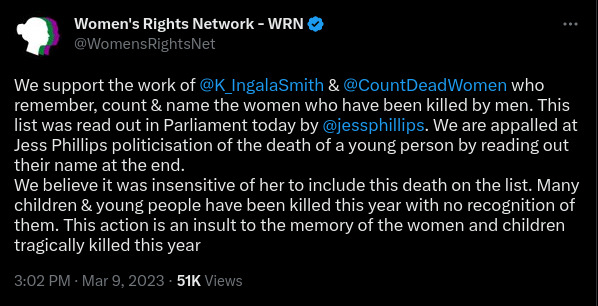 The backlash included prominent and far-right associated 'gender critical' campaigner Kellie-Jay Keen, who recently called for the removal of access to contraceptive medication and abortion for minors.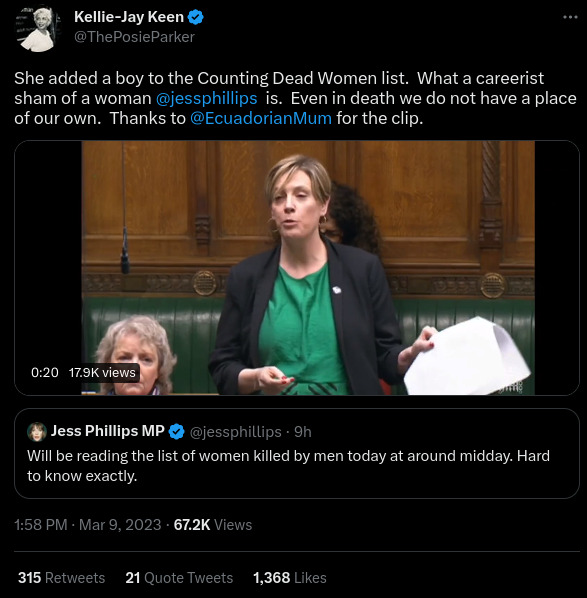 Some, such as Safe Schools Alliance, justified their opposition to Brianna's inclusion as a rejection of the politicisation of her death. Of course, when as trans girl is killed in an atmosphere of unprecedented moral repugnance towards trans people, and is actively misgendered by prominent 'gender critical' figures after her death, it is difficult to understand how her death could be considered anything other than political.
It is also deeply concerning that Safe Schools Alliance - an organisation which purportedly 'campaigns to uphold child safeguarding in schools' - decided to make a comment so far out of their remit, and in favour of failing to recognise the lived gender of a dead trans school child.
Tweet by Safe Schools Alliance (@SafeSchools_UK) Did she really? Did she really politicise the tragic death of a child like that?
Whilst some were able to refraining from actively misgendering a dead trans girl, instead opting for phrases such as 'child' an 'young person', most participants in the dogpile were simply unable to help themselves. This amounts to only a minute sample of the vast number of comments misgendering Brianna within the pile-on. Brianna was described frequently as 'male', a 'boy', a 'lad', and even as a 'bloke'.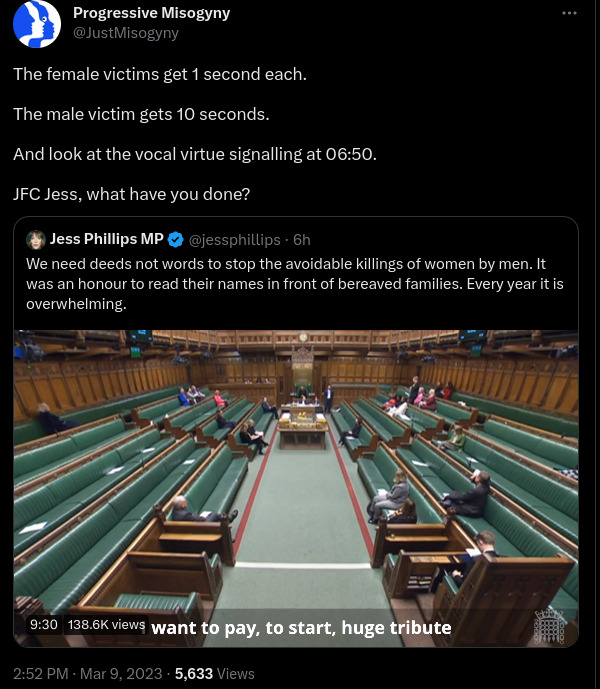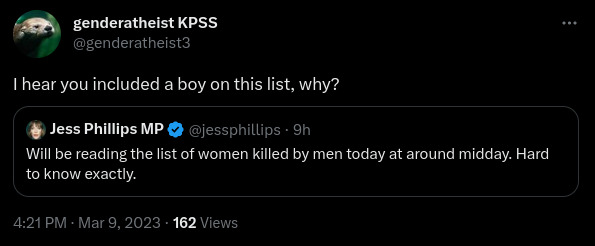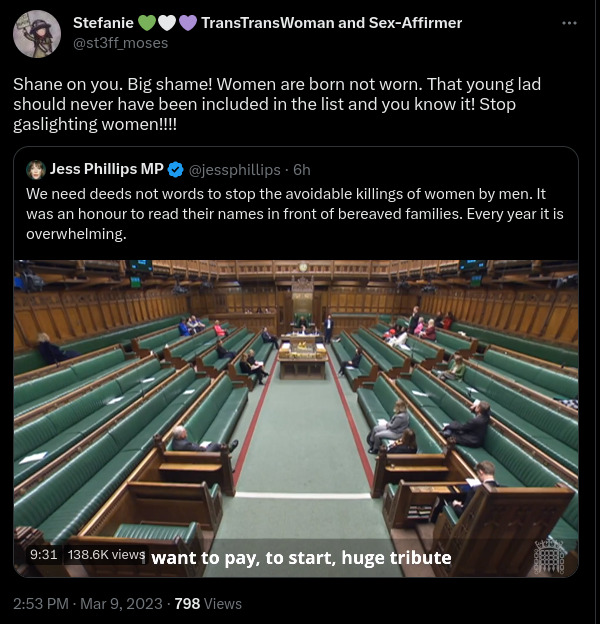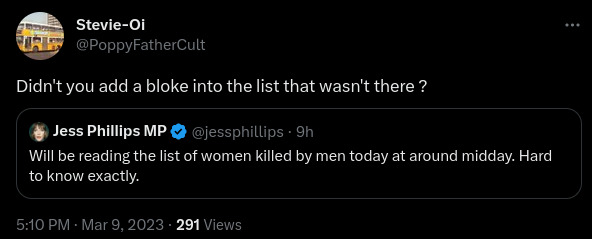 Others criticised Phillips for adding a boy's 'fake name' to the list, referencing the fact that trans people, including Brianna, often change their names upon transition. This deeply transphobic framing implies that Brianna's deadname should be regarded her 'real' name.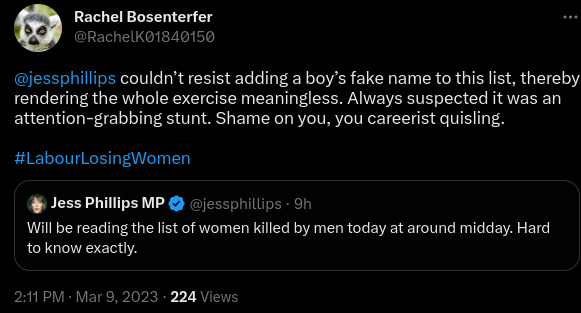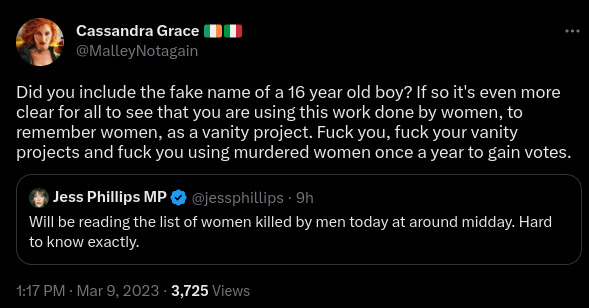 One gender-critical went to so far to accuse Phillips as centring the reading on the 'affirmation of males'. It is difficult to understand how Brianna Ghey would have benefited from such affirmation, given she is dead.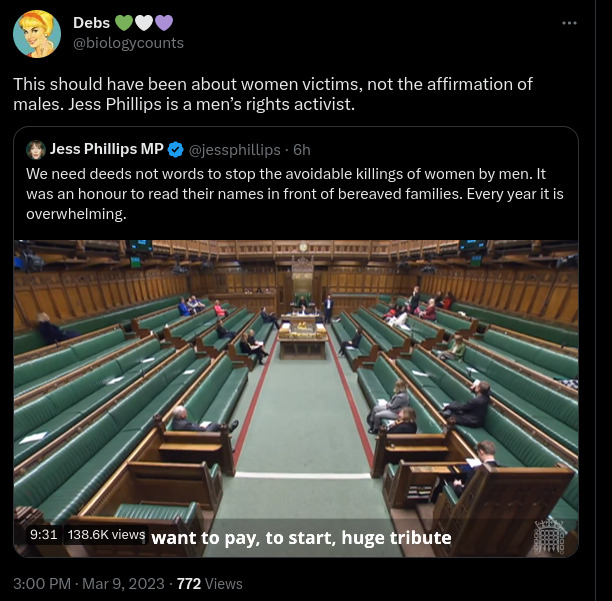 Others claimed that it was wrong to include Brianna Ghey within the list because the Trans Day of Remembrance (or Trans Day of Visibility) already exist. However, of course, being trans does not exclude you from every other category of marginalisation you fall into. Would trans names be unacceptable on a list of dead disabled people? Brianna Ghey was as much a woman as any other on that list, regardless of her also being trans.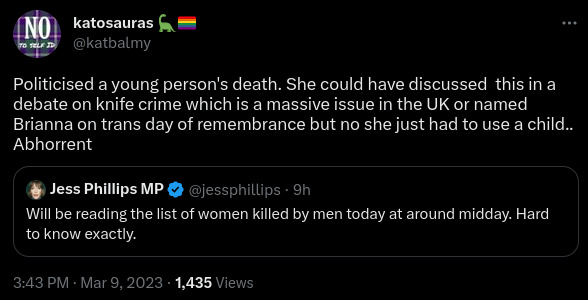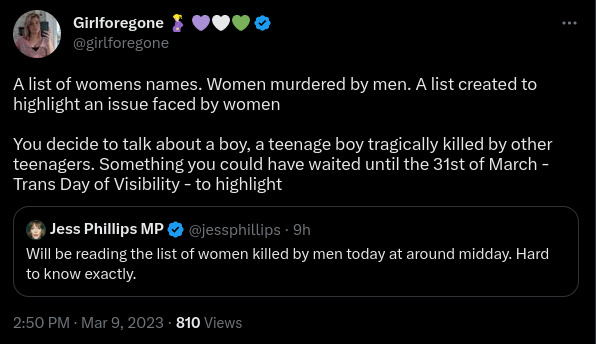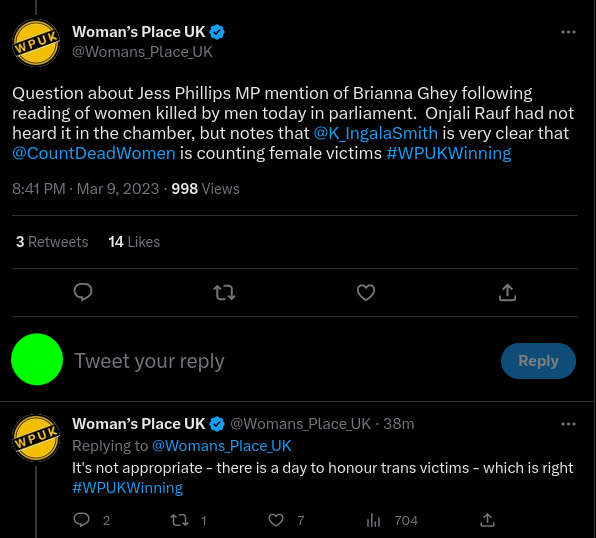 The source of the original list @CountingDeadWomen is headed by Dr Karen Ingala Smith, a vocal gender critical activist who has been clear that trans women will never be included on her list. The addition was therefore made deliberately by Jess Phillips. As a result, Dr Smith has liked tweets disparaging Phillips for her inclusion of Brianna Ghey.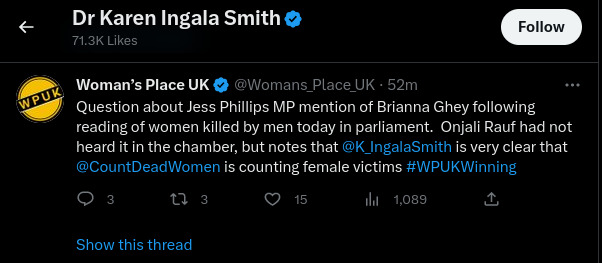 The choice to include Brianna Ghey has generated significant backlash against Phillips. Although Phillips reads the list every year, there have been many calls for list to be read by a different woman who can be trusted, with some suggesting outspoken gender critical Labour MP Rosie Duffield as a potential alternative. At least one twitter user has claimed that they have made a complaint to the Parliamentary Standards Commissioner as a result of Phillips's choice to include Ghey.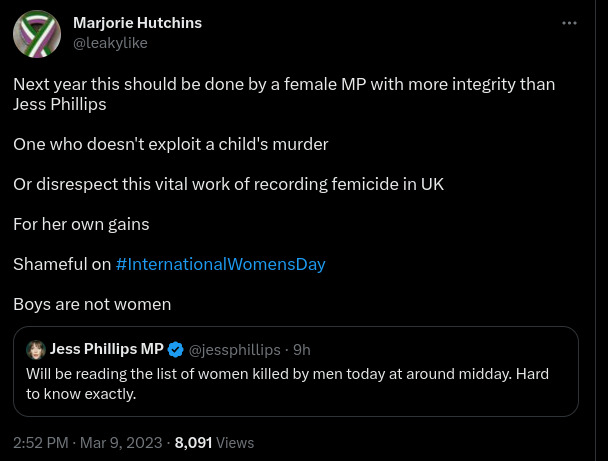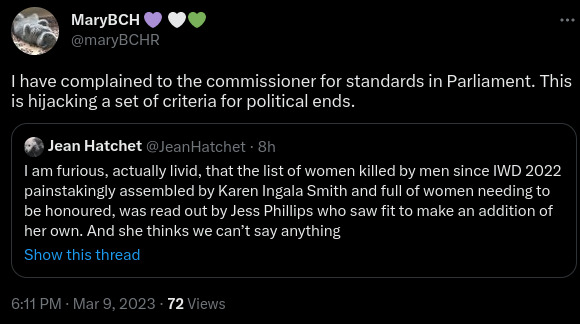 Tweet by MaryBCH (@maryBCHR) quote tweeting Jean Hatchet's post about Jess Phillips - I have complained to the commissioner for standards in Parliament. This is hijacking a set of criteria for political ends.
It is deeply concerning that transphobic rhetoric in this country is so prevalent and so vile that gender critical activists feel bold enough to jump on the grave of a dead child in the deeply upsetting ways outlined above. All this as a result of Brianna being paid the most minimum respect, in way that has no impact on these campaigners lives.
This is not about single-sex spaces or safeguarding - there is no way to be trans which is not an affront to them. This pile on shows the entire movement for what it is - a vicious attack rooted in the hatred of trans people and our community, even our dead children.
---
Tags: