Caroline Farrow, the UK campaigns director of ultraconservative catholic organisation CitizenGO has claimed a hollow victory at the UN Commission on the Status of Women 65 forum (UN-CSW651) in New York which ran through last week. Reading the claims in more detail this seems to have mainly involved a day out with a big anti-abortion bus in New York for extreme anti-feminist and anti-LGBT activists.
Although her activity in the public eye with respect to the gender critical circuit in the UK has been somewhat muted in the last couple of years, Farrow still very much has a large following from among the Gender Critical online community including Labour MP Rosie Duffield who has come under fire after two of her staffers resigned in protest of her allegedly transphobic comments2, as well as Gender Critical groups like ReSistersUK, and UK far right media coalition Hearts of Oak.3
Claimed victories
Overall the claimed victories amount to little (unlike other anti-trans organisations who attended the CSW65 who we will attempt to cover in due course).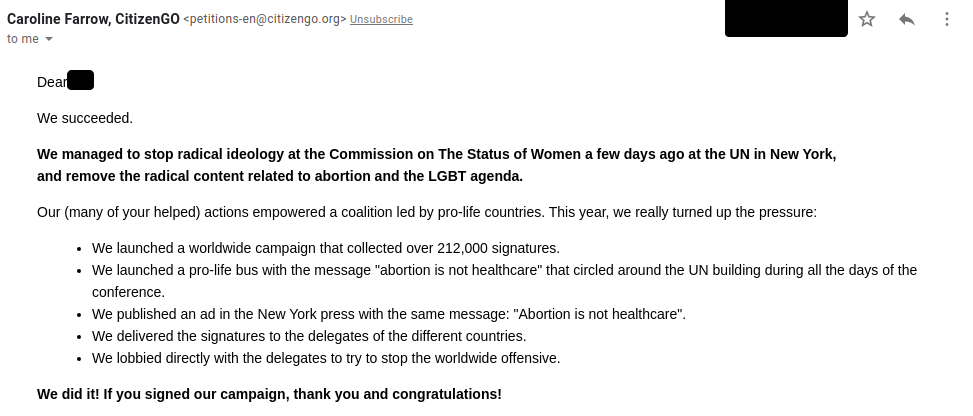 We launched a worldwide campaign that collected over 212,000 signatures.
We launched a pro-life bus with the message "abortion is not healthcare" that circled around the UN building during all the days of the conference.
We published an ad in the New York press with the same message: "Abortion is not healthcare".
We delivered the signatures to the delegates of the different countries.
We lobbied directly with the delegates to try to stop the worldwide offensive.

— Caroline Farrow, CitizenGO - 1st April 2021
It does however demonstrate the connections being made by radical conservatives using the Gender Critical Feminist movement as cover to try and push a connected movement against Trans (and more broadly LGBT) civil rights, reproductive rights, as well as continuing to address the LGBT community collectively as "sexualising children".
It is worth noting however that reproductive healthcare services in the UK have been under attack by a broad coalition of right wing media outlets and Gender Critical Feminist groups in the last few weeks over attempts to make sure that they include the health and sensitivity needs of trans people requiring reproductive healthcare4. While these events aren't directly connected, these rhetorical resonances between ultraconservative groups and anti-trans feminism continue to get louder.
Ties between CitizenGo, HazteOir/Vox, and Lidia Falcón in Spain
CitizenGO is an international ultraconservative Catholic petitions and campaigning body based in Madrid, Spain, led by its president Ignacio Arsuaga Rato5, who also runs anti-abortion group HazteOir who have very close links with Spanish far-right anti-feminist party Vox. This party recently started forming alliances with historic Spanish feminist Lidia Falcón against the incoming "Trans Law".6,7
These alliances between feminists with strong establishment ties and the religious far right are an increasing phenomenon internationally as the trans-national anti-gender movement iterates on previous successes using the anti-trans wing of the feminist movement to advance a socially conservative agenda.
---
References:
3
Follower checks correct as archived at the time of publication, verified using doesfollow.com.
---
Tags: