Members of the gender critical movement are increasingly sharing anti-trans content from members of the far right. In addition, members of the far-right are showing growing appreciation for the gender critical movement. This growing accord between the far right and the gender critical movement over their anti-trans stances is a worrying trend that suggests both a mainstreaming of the far right, using transphobia as a ticket into other spaces, as well as a radicalisation of people who would otherwise not praise open fascists.
On January 20th, a user of the website Mumsnet created a thread sharing a video featuring far-right commentator and Daily-Wire contributor, Matt Walsh1. The video is a clip of Walsh appearing on 'Dr Phil' an American talk show, in which Walsh argues an anti-trans position. In the thread, Mumsnet users praise Walsh for challenging his interlocutor to define the word 'woman' 2 (n.b. while we have linked to the full clip hosted on the Dr Phil youtube channel, the Mumsnet user linked directly to a shortened clip hosted on Walsh's own channel). This particular talking point is frequently used by trans hostile groups and has the consequence of derailing conversations by focusing on abstract debate over definitions, rather than real material issues facing the trans community such as healthcare, discrimination and poverty. Gender critical feminist groups have previously attempted to use concerns over definitions to challenge legislation in court 3. Their cases have been rejected thus far.
Matt Walsh is, as mentioned above, a contributor to the Daily Wire. The Daily Wire is an extremely conservative outlet that frequently publishes anti-abortion4 and anti-LGBT5,6 articles, as well as articles promoting the idea that men are falsely accused of rape 7. Walsh describes himself as a fascist8,9, and is extremely outspoken about his misogynist10,11 and anti-feminst12 views, in particular his anti-abortion stance13. His Daily Wire podcast features episodes with titles like "Feminists hate men but they also want to be men", as well as "The pro-abortion position is ridiculous and disgusting".
While some users in the Mumsnet thread showed awareness of who Walsh is and cautioned others about being quick to praise him (or the far-right more generally), there were several users who appeared very happy to hear their opinions and rhetoric being echoed by the far-right.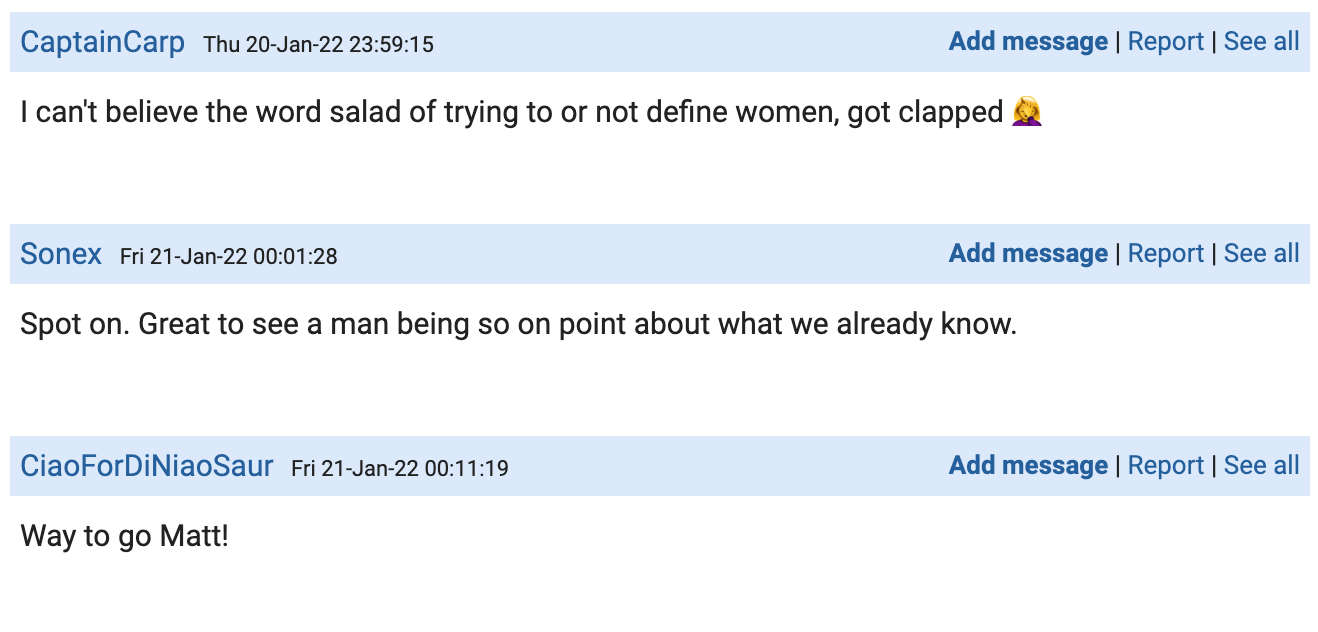 This syndication of far-right figures and sources by the gender critical movement is not an isolated incident. Trans Safety Network have previously documented this convergence, and noted when mainstream gender critical figures have shared information from far right sources14,15, including their direct communication with those sources in order to help construct narratives16.
At the same time as gender critical groups showing a greater willingness to share content from the far right, members of the far right show an increasing enthusiasm for taking up gender critical causes and praising gender critical feminists - seeing the existence of transgender people as a common enemy. Walsh's appearance on Dr Phil elicited interest from far-right activist Tommy Robinson17. In a far-right telegram group dedicated to spreading hatred against transgender people the same Matt Walsh clip received glowing praise from far-right members18. The same group approvingly shares quotes from feminists like Germaine Greer, and a linking to the anti-trans group 'Trans Widows'. This group frequently features extremely graphic photographs and videos of violence and even murder in order to desensitise members to violence. While we ordinarily evidence and source the information we report on thoroughly, we have made an editorial decision not to provide links to this group owing to the extremely graphic nature of the content featured there.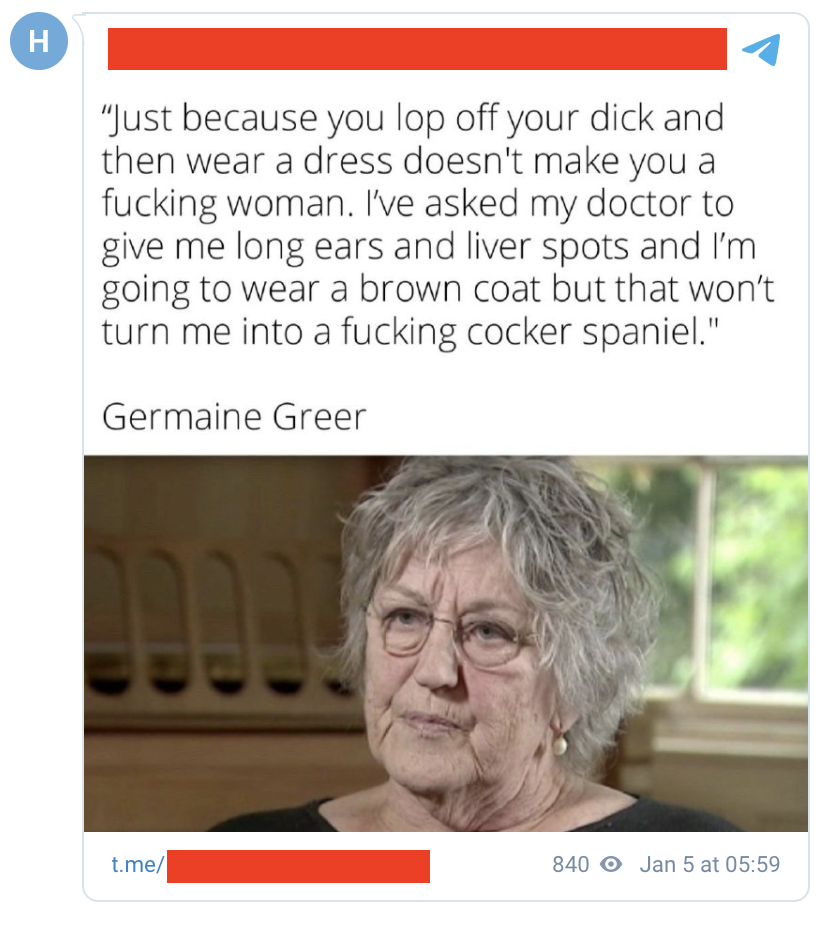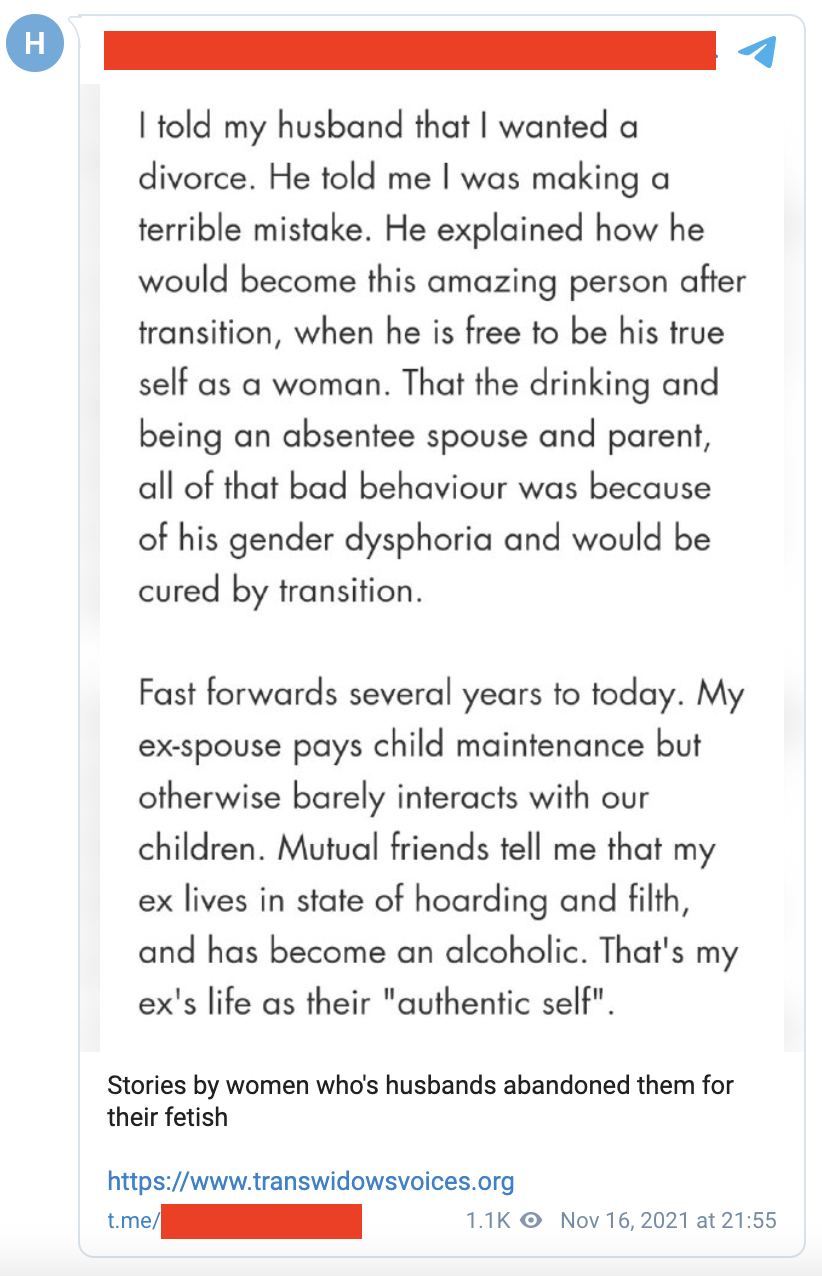 Elsewhere, Helen Blackmore of the "For Britain Movement" praised notorious anti-trans campaigner Kellie-Jay Keen19. Further evidence of the far-right taking up the 'gender critical' cause against transgender people can be found in the telegram posts of far-right group 'Patriotic Alternative', voicing their concern and support for gender critical protestors outside the Scottish parliament20.
In a further disturbing turn, this relationship is increasingly branching outside of trans-specific hatred into the weird world of half-truths mixed with conspiracy theories which has grown a significant interest from far right racist groups. Keen has made a series of streams on Youtube about "Grooming Gangs" - repeating unproven claims that a young girl was killed and eaten as kebab meat. These claims are themselves a rallying point for racist conspiracy theories that the botched police investigation was in fact a police cover-up resulting from paeophile elites who control everything behind the scenes. Keen said directly on stream:
"What we know is that there's grooming gangs in Telford. A young woman that never actually really made it to mainstream news, wasn't a big story, was cut up and I think she was put into meat that was sold for human consumption. We know that there are vast numbers of men involved in theese grooming gangs, and we know that there's weird cover-up stuff going on, that only makes sense if the other people in power are also raping children."


— Kellie-Jay Keen, 12th January 2022
This rhetoric shift has coincided with Kellie-Jay Keen's Youtube comments being increasingly visited by Tommy Robinson supporters promoting fascist protests and material as can be seen below.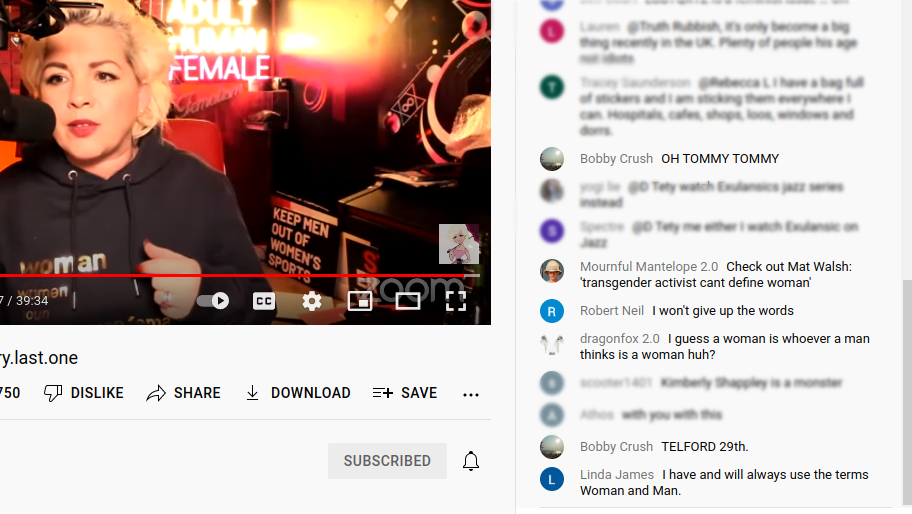 The gender critical movement and the far right appear to accord very strongly on the topic of trans rights. This pattern of GC groups sharing content from far-right sources, and far-right sources sharing content from GC sources is worrying in that it both demonstrates a potential entrypoint into far-right radicalism for GCs, as well as a route for fascists and the far-right to enter more mainstream conversations and spaces, using transphobia as their invitation.
---
References: