The bulk of the research for this article was undertaken on or before 18th January 2022. With the petition continuing to spread virally, new information is likely to come out after this.
A petition to ban all references to LGBT people in relationship education at schools has circulated virally online, gaining 150,000 signatures in its first 6 days. Trans Safety Network investigated it and found that it had been started by Fares Rahmani, who appears to be the Parliamentary Representative for the Diaspora at the Algerian General Consulate in London. It was later taken up and spread virally by British journalists and outlets with ties to Iranian state media, exploiting existing narratives concerning the idea that LGBT education is focused on Muslim children as part of government efforts to target their communities. This call for a total removal of LGBT education in British schools was later endorsed by multiple notable far right and white nationalist figures, was shared through groups associated with conspiracy theorist communities, and promoted by minor gender critical accounts.
While it is likely that people looking at the petition's constituency map will draw conclusions from the fact that the most prominent areas backing the petition at this point coincide with large Muslim populations, it seems worth taking note of both the apparent significance of actors with close ties to foreign states in sharing the petition and the support they received from far right, conspiracy theorist and gender critical actors online.
Additionally, although it already had developed considerable support, the virality of this petition expanded significantly after backing from notable influencers in the conspiracy and far right spheres. We also think it's worth emphasising that we saw British Asian accounts interacting criticising the spread of the petition and the way that this plays into wider anti-rights trends in the UK.
Public facing timeline
Warning about using this timeline: The spread of this petition vastly outnumbers the availability of material on publicly-identifiable social media. As a result there are grave limits to drawing conclusions about the major trends in sharing this petition. These observations portray the "tip of the iceberg" with respect to this petition campaign and the actors openly supporting it. While this campaign appears to have been launched on Facebook, Facebook can be unreliable to investigate as most posts and sharing are not publicly visible. Similarly analysis on Telegram channels is limited by searching through already-known groups and channels, creating biases towards already familiar sources of content from prior research. Caution should be taken remaining aware of the potentially invisible sharing networks for this petition.
On the 8th of January, Mr Fares Rahmani posts the petition to his personal facebook page, for its initial 10 sponsors before it can be approved by the petitions service officially. Mr Rahmani lists his occupation publicly as working at the General Consulate of Algeria in London, since 2011. Algerian news sources online describe Fares Rahmani as the parliamentary representative for the Algerian diaspora abroad. Comments responding after the first 10 failed to add their signature because all petitions at this point have to go through a checking process to make sure they meet the Uk.gov petitions website standards.
Trans Safety Network contacted the Algerian consulate for clarification on the nature of Fares Rahmani's identity and role in the Algerian parliament on the 18th January 2023, and inquiring as to whether this was part of Algerian national policy. In response to our questions, the Algerian consulate told Trans Safety Network that Mr Rahmani no longer works at the consulate since 2021, but declined to answer questions about Mr Rahmani's role with respect to the Algerian parliament as an Algerian parliamentary representative of the Algerian diaspora. Relevant to that, here's Fares Rahmani appearing on an agenda of Algerian parliamentary questions for 2022/2023.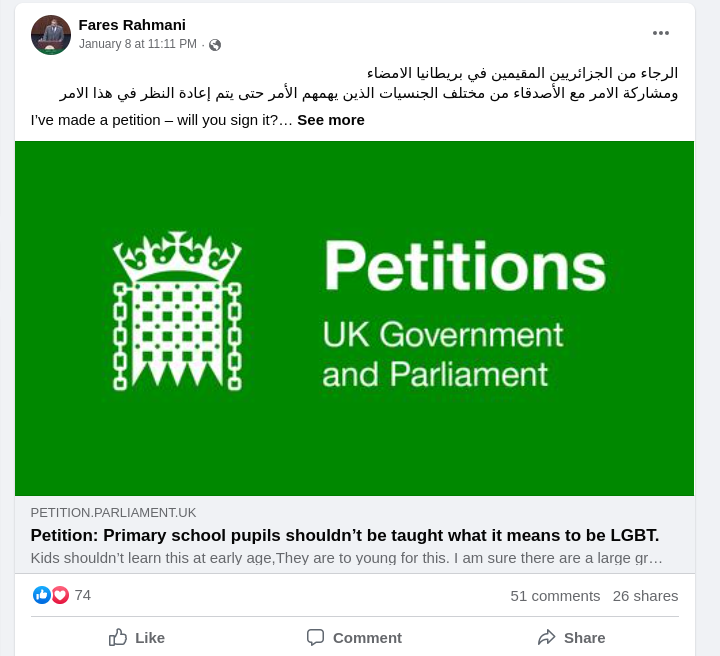 On the 12th of January the petition receives approval from the petitions office and the official starting date according to the petition metadata file has the field "opened_at" : "2023-01-12T17:11:23.805Z". At this point, the title of the petition had been edited from "Primary school pupils shouldn't be taught what it means to be LGBT" to "Remove LGBT content from the Relationship Education".
The first public twitter post of the petition is on the 13th, by a small account with no profile picture, that at the time of writing this piece had only been viewed 10 times.
After a number of other posts, on the 14th we see the first account with a right wing hashtag sharing it and an account using Gender Critical talking points only a few hours later.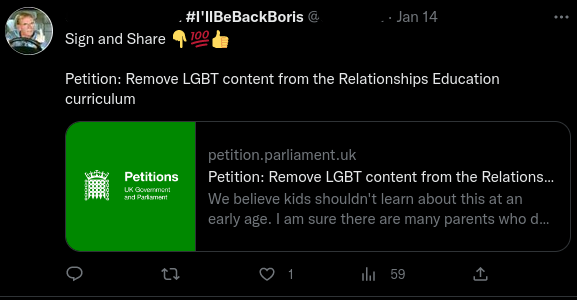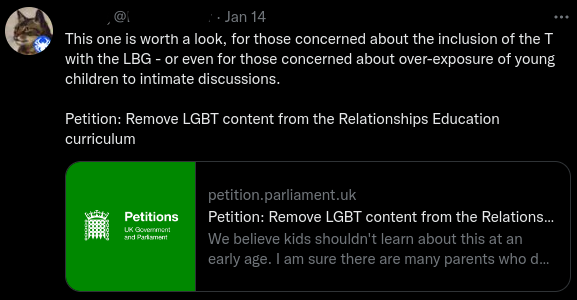 Up until this point we do not have great figures for how many signatures the petition had secured. However screenshots posted on Facebook suggest that it had 78,027 signatures at 11:48pm on Monday the 16th.

A Trans Safety Network researcher graphed the cumulative number of public tweets containing the petition link over time here. The date format given as the x axis is "Month-Date hour", with 4 hourly intervals.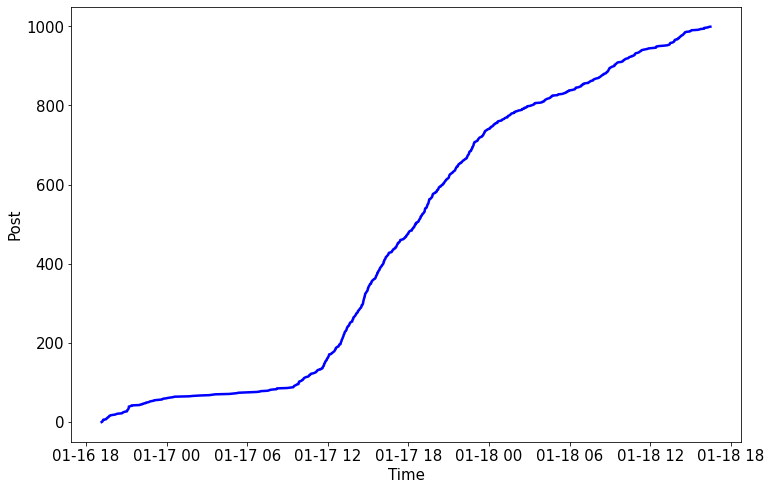 As is visible in the graph, the interest in the story had a runaway increase over the course of the 17th. But at this point at least a half of the current signatures had already been added.
This burst on the 16th included a considerable number of right-wing linked accounts and some self-identified gender critical or "TERF" accounts also.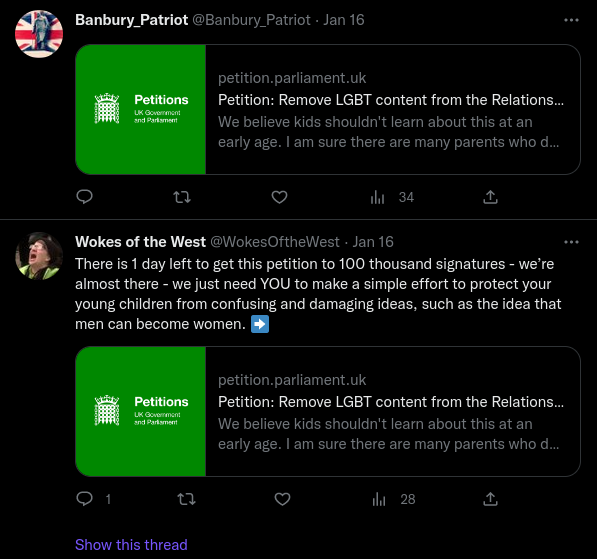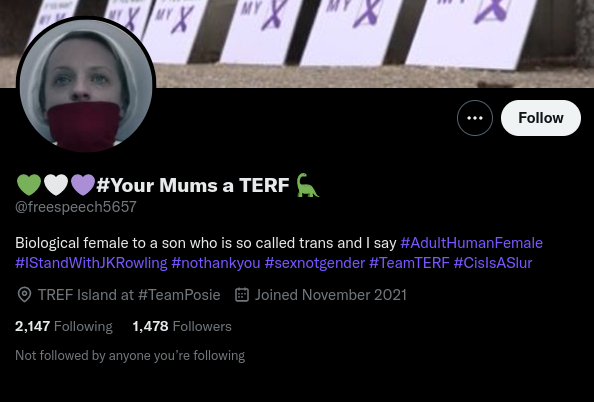 Then next morning the petition is posted by Robert Carter, a journalist employed by Iranian state broadcaster Press TV, with 87,439 signatures by 9:25am.
Despite Carter talking about the petition going viral, his Twitter post (and follow up posts on the petition) are by far the most viral public post about it on the website, with over 500 retweets, 2000 likes and 238.6 impressions on the evening of the 18th January, 18:57.
A screenshot by Fares Rahmani just after noon on Tuesday shows the signature count breaking one hundred thousand signatures then.
This is followed up by the second most viral Twitter spreader of this petition, the website 5Pillars at one PM on Tuesday. 5Pillars was founded by two former employees of Iranian state broadcaster Press TV.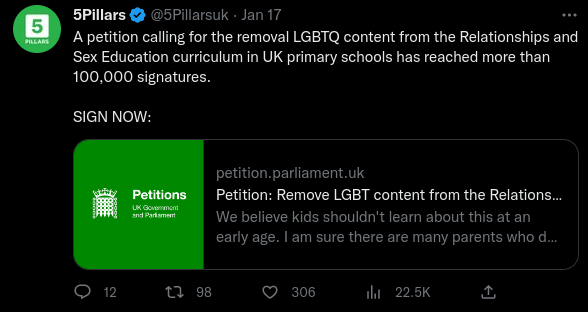 Robert Carter also took to Youtube later that evening to publish a video describing the British government as targeting Muslim families in particular to indoctrinate their kids. This is a reference to a narrative that emerged during the Anderton Park school protests in Birmingham in 2019, after it was revealed that LGBT+ education had become part of the UK's counter-terrorism strategy.
Support from Far Right and Conspiracy Influencers
Given that the heat map for signatures on the petition is concentrated around areas with dense muslim populations, it is perhaps surprising that elements of the white nationalist movement have been very keen to support this petition. Many of these have a strong track record for hostility to Islam.
On the 15th of January, Dr Niall McCrae advertised the petition on the far right social media network Gab, describing it as a "Bradford Muslim petition". Dr McCrae is a representative for the Workers of England Union, who have been noted by Hope Not Hate for their close ties to the far right English Democrats party. McCrae is also a prominent critic of Islam, portraying it as a threat to "the Church".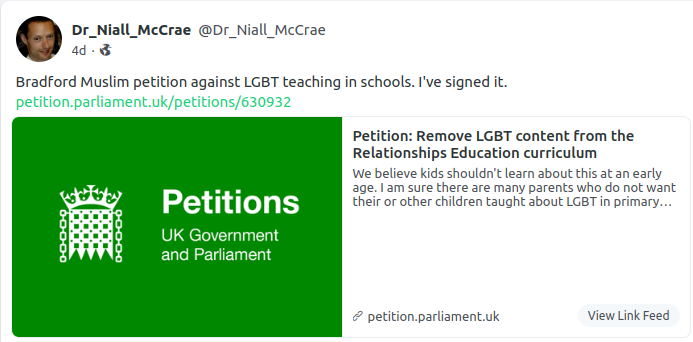 The next notable far right figure to get on board was James Goddard. Goddard has been noted by anti-Islamophobia charity Tell Mama for his Islamophobic activism, and accosted an Asian RMT picket in 2019. He is currently being supported by Gender Critical organisation Fair Cop's Bad Law Project in relation to an investigation by the Metropolitan Police Service for posts on social media describing the LGBTQ+ pride flag as representing "nonces".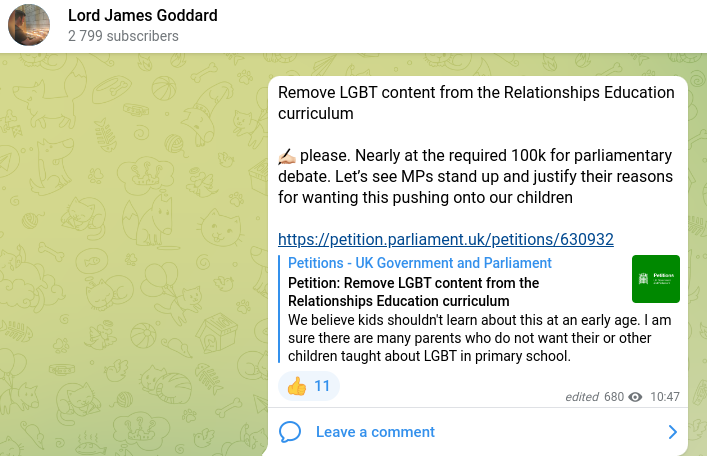 Goddard's post in support of pushing the petition over the line was made at 10:47 on the morning of the 17th.
Following up from that was conspiracy influencer Nick Veniamin, who has over 138k subscribers, posting at 1:21pm.

This post by Veniamin was then shared through other conspiracy theory networks involved in anti-trans radicalisation and pandemic/vaccine misinformation.
As this continued to gain momentum it gathered support from the far right account Voice of Wales jumping on the bandwagon at 11:37pm, and then on another account again the morning after on the 18th of January.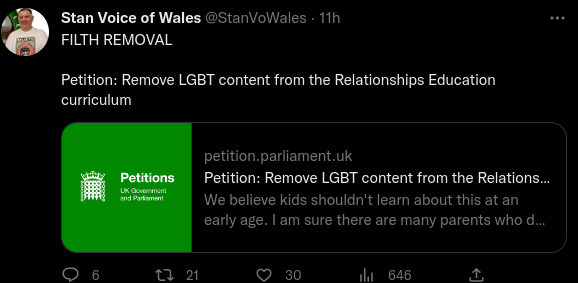 At the time of writing fans of far right activist Stephen Yaxley-Lennon (better known by his stage name "Tommy Robinson") were calling on him to help them spread it.
Conclusion
This petition appears to be a campaign linked to state actors, accelerated by an unlikely alliance of anti-trans far right and feminist groups, exploiting anxieties which have, in part, resulted from the ways that the UK Government's Prevent strategy has targeted Muslim communities in the UK.
Trans Safety Network stand in solidarity with our Muslim LGBT siblings who are implicitly the main victims of this attempt at stirring up division and hatred as multiple states wrestle over their priorities. We call for coalition between the struggles for LGBT people's rights to an education that recognises our existance, for safety for minority faith communities, and for recognition that these realities are not divisible for LGBT Muslims. We emphasise that the main non-Muslim backers of this petition are prominent anti-Muslim campaigners, including those involved in the far right.
We also call for an end to the weaponisation and securitisation of LGBT inclusive education as part of the PREVENT strategy which has fed the idea that LGBT inclusion is primarily a government weapon against British Muslim communities, rather than a necessary human right for LGBT people.
---
Tags: